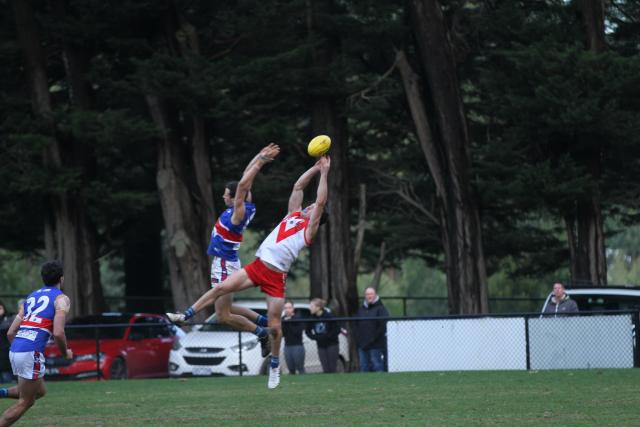 By Frank Seal and Nick Adam
Playing away at the Olinda Recreation Reserve, Wandin Football Netball Club faced a strong opponent in Olinda-Ferny Creek that may well be a challenger came finals time.
On a momentous week for football, both teams were kitted in a special pair of MND-themed socks for the SockItToMND round, and after a special, commemorative pre-game message from Peter Gough, both sides were ready to leave it all on the football field for the next two hours.
Wandin came out the blocks hungrier, crashing through every contest and challenging Olinda's 'one-touch' ability from the start. Some straight kicking and goal of the year contenders early saw Wandin impact the scoreboard early and give themselves a 16-point quarter-time lead, as Olinda's inaccuracy in front of goal was becoming an untimely worry for them.
Two straight kicks separated the teams entering the second half, and the third quarter was a back and forth set-shot shoot-out. Both midfields dominated in patches, winning clean handballs, and gaining territory from stoppages. Goal-kicking woes were proving a significant factor for both sides, with Olinda-Ferny Creek's 2 goals and 7 behinds for the quarter seeing them inch closer to the Dogs whose some set-shot misses of their own saw it as only a 9-point game entering the fourth quarter.
The Bloods jumped the Dogs in the fourth and took the lead early thanks to two crucial goals. A three-point lead was not going to be enough to hold on however as Wandin refused to let go of the game, continuing their hard-nosed contested football and showing poise with their disposal, delivering the ball to their talls and limiting chances to spoil. Some devastating late-game set shots sailed over the Wandin goals and proved too much for the Bloods, falling to the Dogs by 9-16-70 to 12-15-87.
Wandin's pressure around the contest was a highlight of the day and probably proved the difference in the end.
The best players for Wandin were Patrick Hodgett, Thomas Leech-Hines, Patty Bruzzese, Matthew Cerquarelli, Ben Chapman and Chayce Black. P Hodgett kicked 5 goals, Brendan Foley and Clinton Johnson 2 each, while Brodie Atkins, Ryan Jackson and Mitchell Mutsaers all kicked 1.
In other results, the Olinda reserves defeated Wandin 12-11-83 to 2-10-22.