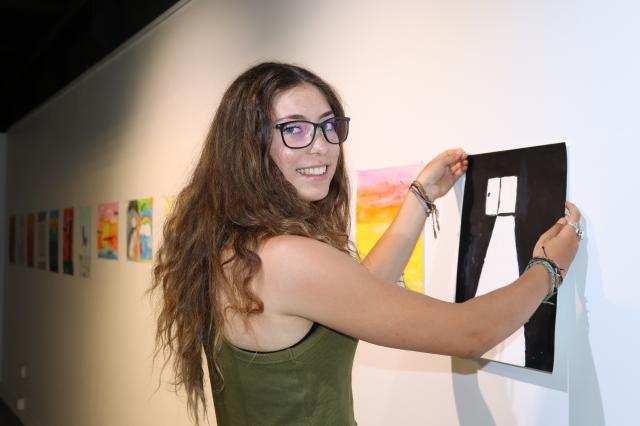 By Renee Wood
YAVA Galley is preparing to open a new exhibition, highlighting the artistic talents of local primary and secondary students.
More than 70 artworks will be on display for the show that opens Thursday 13 January for the Youth Art Exhibition (YAE) project.
Upper Yarra Secondary College students were among those who participated, with three of the best primary and secondary students' work were chosen for awards, and an event will be held to congratulate the winners on Saturday 5 February.
16 year old Inica Smit was the brainchild of YAE after volunteering with her mum Wilani van Wyk-Smit at the gallery early last year.
"Our focus was to let them know that they don't have to be doing art for 15 years to be in an exhibit, we want to encourage them to continue doing it so maybe in 15 years' time they're still exhibiting and still going to gallery."
Miss Smit said she wanted to create something that would bring younger people and families into the gallery.
"My mum always took me to galleries, so I got that experience but some kids that like art don't have parents that are involved really," Miss Smit said.
The project also aimed to inspire local youth and encourage their artistic nature by setting the challenge.
"You might not have experience like everyone else we exhibit, professionals who do it for a living, but your art still counts – it's still something you can work on and be a part of."
Yarra Valley Arts CEO Kate Baker mentored Miss Smit through the process last year.
"Inica had the idea for a competition for young people – that they should all be seen and have free expression and then that will bring in parents and grandparents, to make the gallery really accessible," Ms Baker said.
Canson Art Supplies were also brought on board to sponsor the event, providing the schools with paper for students.
"The kids had to do it at school because we didn't want to have kids going home to their parents and having some sort of unfair advantage."
Miss Smit also created further guidelines to make fair and equal standards for all.
"It had to be done at school, with school supplies, in the class where you were with other students doing it, and it had to be on the Canson A3 piece of paper," Miss Smit said.
Alongside the youth artwork, the exhibition will also open with other interactive elements to entice more creativity from attendees; including a drawing station, interactive mural, postcards for a mini exhibit and digital drawing sessions.