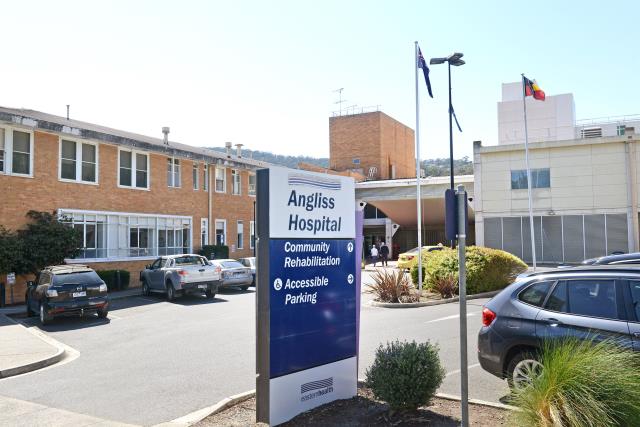 By Parker McKenzie
The rapid rise of omicron cases across the state has put immense pressure on ambulance, hospital and triple-zero services, and it's only expected to get worse.
On 12 January acting Health Minister James Merlino said over 6600 hospital staff are currently isolating because of Covid-19 infection or are close contacts.
Among these thousands of isolating healthcare professionals are staff from Eastern Health, who runs the Anglis, Healesville, Maroondah and Box Hill hospitals, which all provide care to Yarra Ranges and Knox residents.
An Eastern Health spokesperson said the extreme demand in their emergency departments in the result of several different factors.
"These include many staff having to furlough for Covid related reasons and an increase in demand for Covid-specific activity," the spokesperson said.
"Both of these factors put additional strain on the health service for both Covid and non-Covid care."
Mr Merlino said a "code brown" response – where all leave for hospital workers would be cancelled – is currently under consideration.
This followed Ambulance Victoria activating a red escalation response in the metropolitan area, which includes Yarra Ranges, Knox City and Cardinia Council, and asked non-urgent emergencies to contact nurses on Call.
As of 11 January, 422 Ambulance Victoria employees were isolating and unable to work.
From 11.20pm on 10 January, some emergency calls for ambulances and paramedics were delayed because of the demand for emergency services. The code red escalation response ended at 3.35am 11 January.
"The global Covid-19 pandemic continues to have a significant and unprecedented impact on health systems including Ambulance Victoria and hospital emergency departments," an Ambulance Victoria spokesperson said.
"Ambulance Victoria has a detailed Emergency Response Plan and escalation procedures to effectively manage a surge in workload and demand."
This was the second time in a week a code red escalation response was declared by Ambulance Victoria. The government agency expects ambulances and hospitals will be even busier over the coming months with increasing Covid case numbers in the community.
CEO of the Victorian Healthcare Association Tom Symondson said the Victorian and Commonwealth governments must urgently act to secure the health workforce in coming weeks and months.
"The rapid rise of Covid-19 infections is causing a dire shortage of healthcare workers for testing, vaccination and other healthcare. It is also exacerbating a critical shortage of staff to care for people in supported accommodation and aged care," he said.
"More than 6000 Victorian healthcare workers are currently unavailable to work due to Covid. This is about five per cent of Victoria's health workforce and coincides with a peak period for annual leave."
Mr Symondson said to help hospitals, community health centres and aged care providers maximise their workforce in February and beyond, the VHA wants the Commonwealth and Victorian government to prioritise supply of rapid antigen tests to healthcare and aged care facilities, with a clear timeframe on how many tests will be delivered and when they will arrive.
He also asks for the Victorian government to not only extend the commitment to pay surge allowances to frontline healthcare workers beyond the current end date of 10 February, but also expand the category of people who qualify for this payment to include all healthcare workers in patient facing roles.
"Healthcare workers are exhausted and need to be recognised for the extraordinary work they are doing during this public health crisis."
"Many healthcare workers in community health centres are working in the High Risk Accommodation Response program which focuses on keeping high risk populations safe, and the Covid-19 Positive Pathways Program which cares for people at higher risk of serious illness. GPs are already reporting they're overwhelmed. Victoria's unique community health centre system is backing them up."
Currently, healthcare professionals directly supporting face-to-face care are entitled to monetary payments known as surge payments, which were introduced in October 2021.
Patient facing roles aren't the only ones affected, as the support systems of the healthcare system face challenges created by the growing case numbers.
The Emergency Services Telecommunications Authority (ESTA), the organisation responsible for emergency calls and dispatching ambulances, is currently experiencing an unprecedented number of calls.
Currently they are receiving on average 3000 calls a day, compared with just 2400 calls for the entire month in August last year.
"Our triple zero operators care deeply about the service they provide and the community they serve; any delays are unacceptable and we understand callers facing delays could be incredibly distressed," an ESTA spokesperson said.
"More than one-in-five calls to triple zero for an ambulance do not need an emergency ambulance response, and we ask the community to please save triple zero for emergencies and to use Nurse on Call where appropriate."
The increase in calls was attributed by ETSA to several factors, including an increase in Covid-19 related cases needing an ambulance, the cumulative impact of people delaying medical assistance since the start of the pandemic, an increase in calls related to non-emergency situations and an increase in mental health related emergencies.
Following an additional $27.5 million in funding in the Victorian 2021/22 budget, ETSA is recruiting 43 new full-time employees for call-taking, dispatch and mental health support roles. While some of these roles have been filled, others will take weeks or months before they are operational.
ETSA has implemented a number of other measures to handle the huge increase in the volume of emergency calls including offering overtime shifts to workers, recalling employees seconded into other projects and using additional incentive payments to attract already trained potential staff, former employees and those on parental leave to return to work at ETSA.
The Victorian State Government announced on 12 January a drive to train up to 1000 new vaccinators, drawing from a pool of first-year health students, retired nurses and people with experience working in health or community service.
"Millions of Victorians will soon be eligible for their third dose, and we're doing everything we can to ensure the community can access a vaccine as quickly and as safely as possible." Mr Merlino said.
The government said this will free up health professionals to return to their normal duties and ensure Victorians can receive their third dose of a Covid-19 vaccine.
Mr Symondson said when the National Cabinet meets on Thursday 12 January, these issues must be prioritised.
"Our members are telling us about significant shortages that are hampering their ability to keep up with demand. This is likely to get worse in coming weeks," he said.
"It doesn't matter how many ambulances, hospital beds and aged care rooms we physically have in Victoria. Without staff, they won't function,
"Omicron is going to test Victoria's health system like no other event in recent history. Now is the time to invest in our health and aged care workers. We need to recognise the extraordinary work they are doing to help us all through this public health crisis."