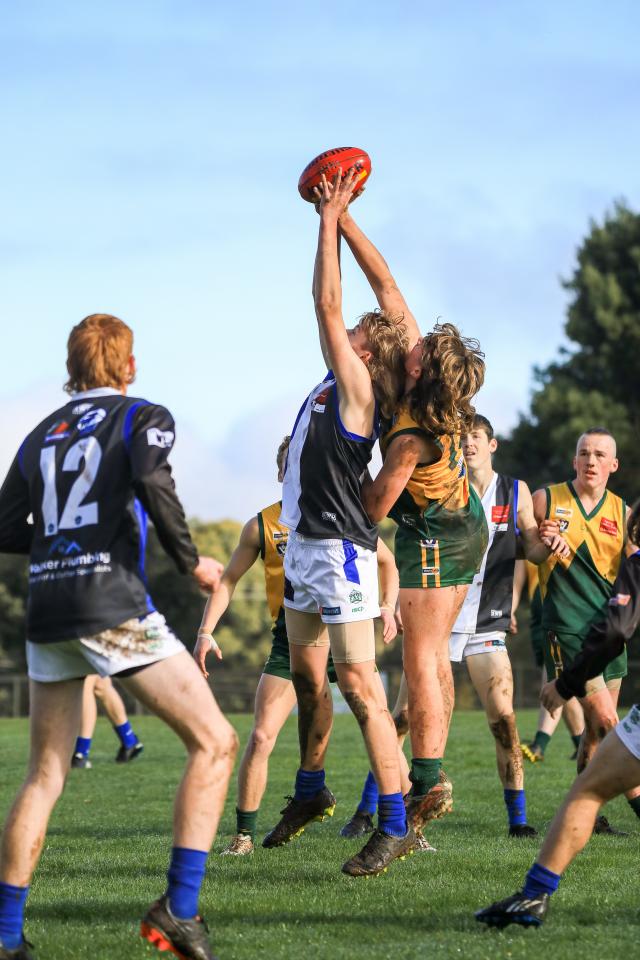 By Callum Ludwig
The Warburton-Millgrove U18s side is set to battle it out with Kinglake in the Grand Final of the AFL Outer East Box Hill Institute U18 Boys competition on Sunday 7 August.
The game will be played at the Yarra Junction Memorial Reserve, with the first bounce at 10.20am.
Warburton-Millgrove U18s Coach David Swankie said his players are excited heading into the game.
"We've played Kinglake four times, and they've beaten us three out of those four, but the clashes have usually been fairly good games and pretty evenly matched," he said.
"They've just gotten away from us a bit at the end of games at times. Talking to 15 and 16-year-old boys, you don't get much out of them but they know it's going to take a lot of discipline, a lot of concentration, and a lot of intensity and attack on the football."
The sides first met in Round 4, where Kinglake came out on top by 30 points, 72 to 102, and they also won in Round 11 (86-31) and Round 15 (37-60). Warburton-Millgrove's win came in Round 9 (84-119).
Mr Swankie said the strengths of both sides definitely lie in their midfield.
"Our strengths would definitely be our midfield and forward line, but we have to stop their midfield. They've got five very good footballers in there," he said.
"They're high-quality players, and they've got a very good player down forward who kicks a lot of goals, he's kicked 17 against us in four games, so we have to shut him down."
Jed Tyrell, who has kicked 37 goals for the season, is the culprit Mr Swankie mentions, but Kinglake also has the next two leading goalkickers in Jackson Armstrong (35) and Harry Caine (24). Warburton-Millgrove's Liam Westlake (24) and Hudson Semple/Bailey Humphrey (20) round out the top five goalkickers in the division.
Mr Swankie said Warburton-Millgrove's best football comes from their ability to switch the play.
"When we switched the ball to the open side of the ground, and we run the footy, we're a much better side than we are if the ball is congested," he said.
"Our players are a bit younger than the other team, and their frames are a bit more on the lighter side."
The Burras have had a number of consistent top performers throughout the season, led by Liam Westlake and Luke Anderson (7 times in best players), as well as Blake Muir (6), Tarkyn Nicolandos (4) and Tyler Bert (4). Kinglake's Seth Jackson (8), Ashton Robinson, Jed Tyrell and Thomas McErlain (6) have been some of the Laker's best.
Mr Swankie said a premiership win would be something the players could look back on fondly.
"If you win in a premiership, you form a bond with the players that you played with that lasts a lifetime, they'll always be able to come back to the club, they'll always have something to talk about that they endured together," he said.
"They, and the other three clubs, have endured a pretty tough season this year, coming up against the same opposition every few weeks. For them to keep their concentration and keep their determination and focus and what they have achieved is fantastic. I'd like to thank everyone as well that not only kept our team up and running but the other teams as well so all the kids could play."