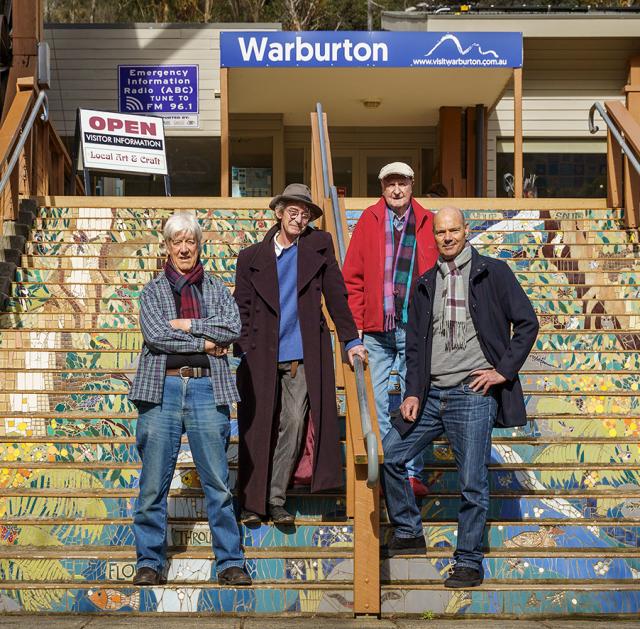 By Renee Wood
How a subject is photographed, is always in the eye of whose behind the lens and the new exhibit at the Warburton Waterwheel Galleryhas proven just how diverse a photographer's perception can be.
Photographers Paul X Stoney, Antony Dimock, John Bodin and James McEwan have come together to showcase their unique perspectives for the Four Sight exhibit.
The Upper Yarra photographers all come from various backgrounds, including photography, graphic design or construction, however, they all unite with photography as a passion of theirs.
Mr Stoney explores representation and self-portraiture, with a monochromatic colour palette.
Mr Dimock captures abstract snaps of shape, colour and lines – something that mirror something of a Piet Mondrian's angular art.
Mr Bodin's work focuses his attention on capturing 'ordinary things in a not so ordinary way'.
While, Mr McEwan has worked as a newspaper photographer for decades, and captures photos of anything along his travels that 'smacks you in the eye'.
All photographers work with different cameras, for examples Mr McEwan enjoys using a widelux camera.
"It's got a worldwide following of people who are a bit nutty, because the camera barely works – it's so nice to use, once you can do it so it's a fairly idiosyncratic thing but it's totally mechanical and it works like a tractor," Mr McEwan said.
Viewing the showcase of works at the gallery, it's easy to see how they encourage us all to view the world in a different way than what's expected, urging us to see there's always beauty, you just have to capture it.
Their love for photography remains to be the underlining connection among all of the artists who've spent decades behind the lens.
"I've always had a love hate relationship with photography because I didn't go into it as a profession, and I've tried my hand at silversmithing, furniture making but always come back to photography," Mr Dimock said.
Four sight opens Tuesday 2 August, with the community invited to the official launch on Saturday 6 August 1-3pm.
The free exhibit will run until 30 August.