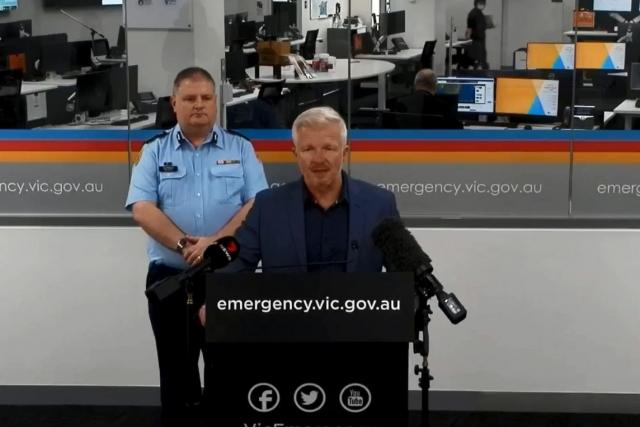 By Renee Wood
A significant weather event is set to hit Victoria, with Yarra Ranges residents warned about expected wind gusts between 65 to 110 kilometres per hour.
The cold front will produce vigorous north to northwesterly flows and heavy rain for parts of Victoria overnight late Tuesday and into early Wednesday morning.
Forested areas are the greatest concern being exposed to the northern gusts, and the Dandenongs are forecasted to see winds up to 110km per hour, while elsewhere winds between 90 to 100km are possible.
The strongest gusts are expected to hit early Wednesday morning and Senior Meteorologist Kevin Parkin said the Yarra Ranges will be part of the areas that are expected to see these destructive winds.
"When we talk about wind gusts of 90 to 100 kilometers an hour that's capable of breaking branches off trees, also capable of pushing over weaker trees as well," he said.
Residents are being urged to act and prepare now and if possible, stay off the roads over night.
Victorian State Emergency Service Chief Officer Operations Tim Wiebusch said emergency services are asking Victorians to be vigilant and stay listening to emergency services broadcasters over the next 24 to 48 hours.
"We're asking motorists that are on the road tonight to be extra vigilant for the risk of debris which could include falling trees or branches, powerlines," Mr Wiebusch said.
Localised impacts to power and internet are expected, with the community urged to have phone and battery packs charged to be able to learn of emergency warnings.
Securing loose items at home and clearing debris in roofs early is also paramount.
"We see often the likes of trampolines and outdoor furniture that become flying missiles to the neighbours, so please secure those around your homes," he said.
Yarra Ranges emergency service volunteers are preparing for the upcoming weather conditions, as extra crews are being put on rosters across the state for the coming days.
Mr Wiebusch said that we are fortunate that this particular event, isn't as likely to cause the same destructive winds that we saw last June.
"This wind event is quite different, we're seeing north to northwesterly winds, whereas in that event, it was southerly winds that caused the challenge," he said.
"We've not quite got the same antecedent conditions that we saw then as well which would normally see very sodden ground. Seeing the root balls of trees make more susceptible to these strong winds.
"However that risk still does remain with wind gusts up to 100 kilometres an hour overnight tonight in particular."
Mr Parkin said this is a strong event but it is a winter storm that is typical of what we would see once or twice a year through winter
"It's not like it's a rare event, like we saw in June," he said.
"Even those people who remember the winds are the early hours of the morning because around the 28th off October last year… we're not expecting winds event sort of magnitude."
The wind risk is the immediate concern for emergency services, while Heavy rain is predicted later in the week.
"It's going to be a windy week, severe weather warnings will continue for parts of the state into Thursday and Friday, and it looks like we won't actually see the winds swing around to the south and get a bit of a southerly burst of air perhaps Perhaps Saturday night or even Sunday."