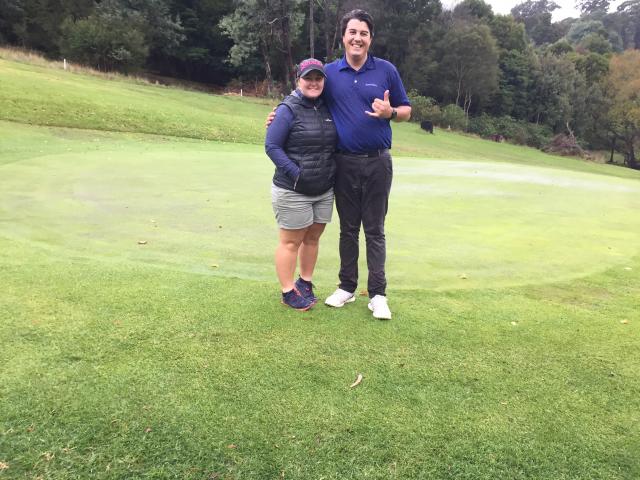 By Ron Hottes
Wednesday 4 May, Stroke and M.McGrann qualifier:
Our May qualifier for the new golf bag is Mario DeVincentis. Mario found the course to his liking on this day to return a Nett 67, taking home the winner's voucher, too! Great work, Mario! The runner-up prize went to Ken Barratt, who was just pipped on the line, ( a regular occurrence!), recording a Nett 68. Well done, K.B. The balls extended down to Nett 73. Our daily NTP winners were Neil Leckenby (3rd), Alan Johnston (5th), Your loyal scribe (9th), Malcolm Dickson (12th) and to Ossie McClay (15th).
Our Ladies' B-Grade Championships started on this day, too. Although details of standings are scarce, it is safe to say that Lynda Dickson is leading the way,( with an 89 "off-the-stick"), with Ineke DeGraaf holding down 2nd. The 2nd and 3rd rounds will be played over the next 2 Wednesdays, so good luck to all the girls!
Saturday 7 May, Stroke, Monthly Medal and the final round of the Club Championships:
Firstly to the daily results. Ex-Captain Cross pulled out a stunning final round in our Championships to record a Nett 66, taking home the A-Grade voucher, and the May medal! The runner-up on the day was Jason Kennedy with a Nett 67. Unfortunately, other results are unavailable at this time! Also, the only Championship information I can present to you is a list of the various winners. Jon Cross has won his first Open Championship, the youngest winner, at 29, for many years! Ken White had a tight 1-stroke win to be our 2022 B-Grade champ. Tim Blanche won the C-Grade title by a healthy margin! Kim Kennedy has now won the Ladies' Open Championship for the 6th time. Other results are unknown at this stage, but a fuller report will be included in next week's edition. Apologies for the delay.