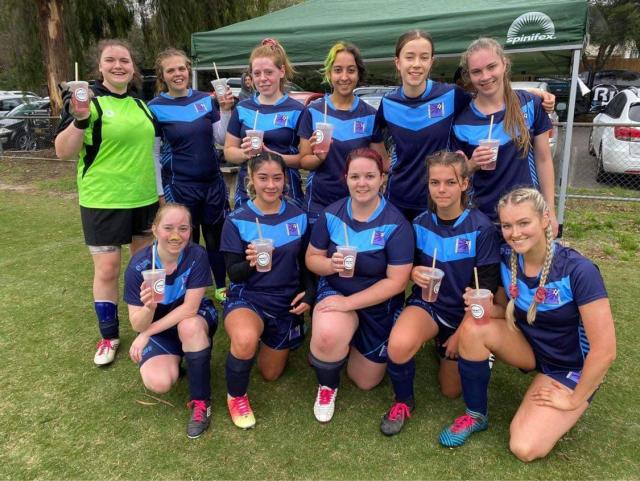 By Steve Fleming
A big weekend for Soccer in the Valley with victories for the senior men's teams and a special day for the women.
The Yarra Valley Soccer Club Women's team took part in the VCFA Women's Round on the 7 th of May donning pink laces in honour of the event.
"The entire League wore pink laces today to recognise the contribution of women to their sport and their clubs," said Coach Neil Langmaid.
"It's a great celebration."
The women's team played Maroondah at Silcox Reserve and battled valiantly after being reduced to 9 players in the second half but succumbed 3-1 at the final whistle.
The team's sponsor, Impact Nutrition, supported the team by providing Pink Acai Berry hydration drinks to match the ladies' laces.
In the Men's fixtures The YVSC Premier side saw off Eastern United at Gracedale Park to get back on the winner's list and the top of the table.
A sour note to the victory was a knee injury to playmaker Ben Shannon.
In the Premier Reserves fixture, an outstanding 4 goal contribution from forward Anwar Ibrahim saw the YVSC beat Eastern Utd Reserves 6-1.
It is the 4th game Ibrahim has scored multiple times in only 5 outings. The coach from the Premier team will now surely be looking to find a spot for such a prolific scorer in his team, as they continue to charge up the ladder.
In the other senior fixtures, both the 'Thunderthirds' and the Fourths were narrowly beaten 1-2 by Knox and Blackburn respectively.
In the Junior fixtures, the U13's shared points with Gideons in a 1-1 draw while the U15's were given a footballing lesson by Berwick, going down 7-0.
The U10 Dragons had a bye this week but take on Healesville at Millgrove next Saturday morning for their second match of the season.