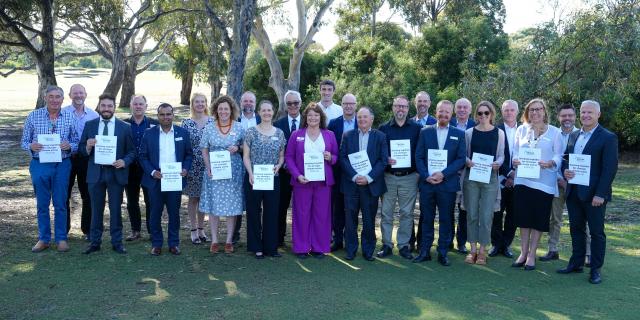 By Violet Li & Tanya Faulkner
Yarra Ranges Council has confirmed staff are continuing to implement actions from its Liveable Climate Plan following a 'landmark' new blueprint pitched by the South East Councils Climate Change Alliance (SECCCA).
On Wednesday 8 November, Climate Action Minister Lily D'Ambrosio joined local leaders for the official launch at the SECCCA annual Leaders Breakfast – delivering a keynote speech to mark the occasion.
The new blueprint SECCCA 2024-28: Working Together for Stronger Climate Action recognises the importance of a partnership approach to deliver stronger results for local communities.
The action plan identifies practical programs for delivery with the Australian and Victorian Government partners and nine local council members across the SECCCA region, including Bass Coast Shire Council, Bayside City Council, Cardinia Shire Council, City of Casey, City of Greater Dandenong, Mornington Peninsula Shire Council, City of Kingston, City of Port Phillip and City of Frankston.
Climate Action Minister the Hon. Lily D'Ambrosio joined local leaders for the official launch.
The Minister's speech was followed by a panel discussion featuring secretary of the Victorian Department of Energy, Environment and Climate Action John Bradley, Footy for Climate Alliance co-founder Tom Campbell and net zero lead for the Insurance Council of Australia Ange Nichols.
Cr Michael Whelan, Bass Coast Shire Council Mayor and SECCCA Advisory Group Chair said community surveys suggested that more than three quarters of residents were very concerned about the impacts of climate change in our region.
"But we know it's a challenge that we can't tackle alone," he said.
"SECCCA has taken a whole of community view, to work together and come up with practical steps to help mitigate and manage climate risk in our region.
"This strategy charts the path for our members to work together and with our community to address climate change in our region."
The priority projects identified for the next four years are business energy support program, residential home resilience ratings tool, small business climate adaptation toolkit, transitioning to electric or hydrogen heavy-duty vehicles in council or contractor fleet, reviewing the vulnerability of council assets (phase 2), expanding the environmentally sustainable design Brief Ezy tool, climate risk mitigation program for councils, advocacy on climate action, and opportunities for purchase of carbon offsets.
Cr Whelan said SECCCA's strong governance and shared resources gave real bang for buck, tripling every dollar invested by councils and helping to avoid future costs to residents, business, government and industry through more informed decision-making and mitigation.
Whilst Knox City Council are not members of SECCCA, they are instead members of the Eastern Alliance for Greenhouse Action (EAGA) which is a multi-council collaboration for the eastern region – just as SECCCA is for the South-East.
Knox Mayor, Marcia Timmers-Leitch, said since adopting their Climate Response Plan in September 2021, council has made steady progress to reduce its carbon emissions.
"Council's 10-year plan identifies 55 actions to help our community achieve net zero emissions by 2040 and to reach this target in our own operations by 2030.
"In 2022-23, we reduced our emissions by 2.7% or 225 tonnes, which is like pulling 100 cars off the road in a year.
"We installed seven electric vehicle (EV) charging stations for community use and Council's fleet, upgraded 500 streetlights to LEDs in Boronia, planted over 39,600 trees and plants, installed 100kW of rooftop solar and 76kWh of batteries across five Council sites, provided four My Energy and Water Saver kits for loan at libraries and invited businesses to join a renewable buying group.
"This financial year, we will upgrade about 1,500 streetlights and install four more EV public charging stations," she said.
The SECCCA action plan was launched to an audience of Federal and State Members of Parliament, industry and business groups, peak bodies and councillors from across the nine SECCCA councils.
The draft action plan is set to be finalised soon and scheduled for delivery from July 2024.
When asked about Yarra Ranges Council's actions after the October 2022 flood event and the June 2021 storm, Yarra Ranges Council's acting director of planning and sustainable futures Amanda Kern said in a statement the council's Liveable Climate Plan represents an integrated, whole-of-Council response to climate change.
"The plan outlines how we will support our community, including demonstrating leadership through Council's transition to 100 per cent renewable energy by 2030, and achieving Net Zero emissions by 2040," Ms Kern said.
"There are many actions in this document guiding Council's emission reduction progress, as well as activities to empower communities to adapt and thrive in a changing climate.
Ms Kern also said community focused programs include the Solar Savers and Energy Savers programs, My Energy and Water Saver Kits, Gardens for Harvest Program, Gardens for Wildlife Program, Ribbons of Green Program among others.
"Council is demonstrating leadership by installing resilience measures to ensure community hubs can operate in grid outages, replacing equipment with energy-efficient and renewable alternatives, electrifying our Council fleet and community projects to help everyone live a bit lighter on the earth," she said.
Next year SECCCA will celebrate 20 years of regional action on climate change.
The SECCCA region is home to 1 million Victorians with a diverse mix of metropolitan, periurban and rural communities, producing $85 billion in Gross Regional Product annually.
The 2019-2024 action plan identified the reduction targets to keep warming below 1.5 degrees in line with the Paris Climate Agreement, which means the south east region needs to reduce emissions 5.8 per cent every year until 2037.
It has also found the region would experience more frequent heat waves, decreased rainfall, and increased flooding by 2050 on the current trajectory of national action.
"Local government is at the coal-face of climate change, and we are taking up the challenge to help our communities build resilience and prepare for future impacts," Cr Whelan said.
For further details on the Knox Climate Response Plan, download the Climate Response Plan 2 Year Progress Report 2022-2023 from their website.