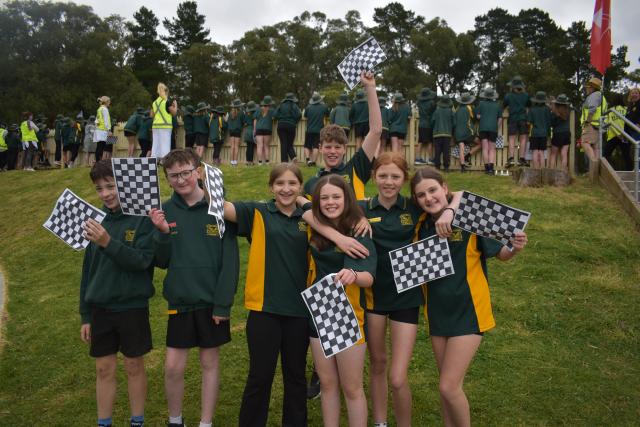 By Callum Ludwig
A grand adventure through the Victorian highlands for a good cause came to an end today, bringing with it a special experience for Yarra Junction Primary School (YJPS) students.
Four-wheel-driving enthusiasts from Queensland signed up to fundraise for the Variety Children's Charity through the Varuety 4WD Adventure, held over nine days from 8 to 17 November.
General Manager of Variety Queensland Karyn Hicks said it has been a fantastic event and according to the participants, one of the best they've ever put on.
"It did help that we had a beautiful landscape to travel through of course, but without the participants, they're the heart and soul of Variety and their hard work fundraising every year fundraising is what makes Variety what it is," she said.
"It's great that we're able to do these events, travel into these communities, see the schools and give back to them."
The Variety 4WD Adventure is held every 18 months and this year's event has raised over $325,000 at the time of writing.
Ms Hicks said supporting children is at the heart of everything they do.
"All of our participants this year have been fundraising and that fundraising comes into Variety so that we can make a difference in schools and communities," she said.
Just like this school where we've been able to actually give them a grant for the communication board that's out in their playground."
The communication board from Variety has a variety of pictures and words that are easy for kids to understand and that they can use to identify how they are feeling so they can better communicate with their fellow students and teachers.
YJPS Principal Lisa Rankin said they feel really lucky to have been the end stop for the event.
"We're really excited to have them all here because this beautiful group of people have donated an amazing communication board to our school, so as much as the kids are celebrating the four-wheel drives coming today we are also grateful for how they will help our kids with communicating and being able to self-regulate," she said.
"Variety and what they do for disadvantaged kids and all children is unbelievable, they've been able to give their own money to get their four-wheel drive vehicles together, to be able to then raise money and then able to make connections with kids because our kids will talk about this forever,"
"There's an element in education but this reminds you about the joy factor and to make sure that we stop and we celebrate what we can do when we work together for the good of other people."
YJPS students turned out in droves to welcome the 47 vehicles, with 'chequered flags' in hand and plenty of excited chatter and cheers. The Scooby Doo-inspired Mystery Machine and the 'Aussie Rock' blasting Aussie-rock hits were particular fan favourites among the convoy.