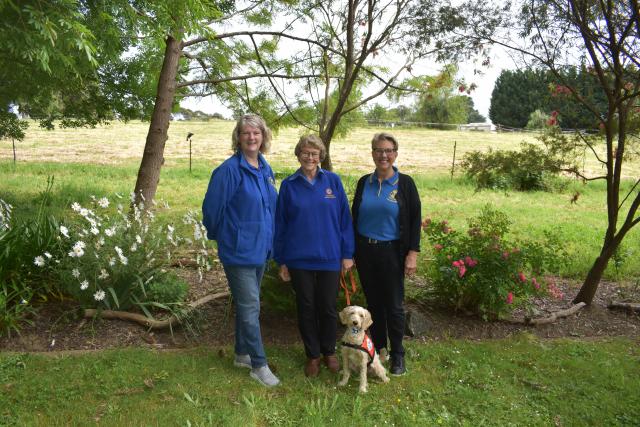 By Callum Ludwig
A Wandin North resident has a new companion that does more than just provide her with love and friendship.
Hendy O'Toole, who is also a member of the Lions Club of Croydon-Mooroolbark, has been united with hearing dog Lizzie through the Australian Lions Hearing Dogs (ALHD) initiative.
Hearing Assistance Dog Trainer Ashleigh Moloney spent the week with Lizzie and Ms O'Toole helping them each to settle in and said since 1980, the program has delivered 687 dogs, including Lizzie, around the country.
"Hendy can't hear when she takes her cochlear implants out, so Lizzie is very important for instance, if the smoke alarm goes off. Hendy's not going to hear it, so Lizzie will come up and touch Hendy to let her know that something's happening," she said.
"What Lizzie will do is touch and drop to signal danger, to say it's time to get out of here, whereas all the other sounds in the home, she'll just touch and lead her back to the sound,"
"If it's a door knock or a doorbell, Lizzie will go and find the source of the sound, then she'll come back and touch Hendy with one paw, lead her back to the sound and sit and Lizzie can work up to about 10 household sounds."
The ALHD helps provide hearing assistance dogs free of charge despite costing just under $40,000 to train, deliver and support, all made possible through donations from the public and Lions Clubs across the country.
Ms O'Toole said Lizzie is a lifesaver for her.
"I lost my husband last year so it's been a long time coming, waiting for a hearing dog and it's worth waiting for," she said.
"I first applied back in 2016 but my husband was still alive then and I thought that I wouldn't really need one while I had my husband home but then he got sick and I was put on the waiting list and have been waiting two years, so it's a long haul,"
"It'll make people aware that I have got a disability, it's an unseen disability and no matter how often you tell people they can forget."
One in six Australians suffer from some form of hearing loss according to the Hearing Care Industry Association and it's expected to rise to one in four by 2050. Severe or profound hearing loss currently affects close to 400,000 Australians.
Ms Moloney said the bedding-in process takes time and that's why they get the local Lions Clubs involved.
"I spend a week with Hendy transferring Lizzie to work sounds in the home for her because she's been at the training centre with me for about six to seven months and then on the fourth or fifth day, we get the local Lions Club involved," she said.
"What we'll do is we'll show them how to set off the sounds, and they'll come three times a week for the next 12 weeks, then once the 12 weeks is up, we get our program manager to run through the sounds and take them for an outing,"
"At that stage, they'll pass and they'll get a bright orange colour that says Lizzie's name and number and she'll be classed as an official hearing dog."
The ALHD program is in the midst of obtaining a government grant to expand its training centre so the team can provide 35 dogs a year, up from 31, including medical alert dogs, with eventual hopes to aim for as many as 60 dogs a year.
President of the Lions Club of Croydon – Mooroolbark Wendy Rowles said in her eight years as a Lion, this is probably the most rewarding thing that they've done.
"We raise money, we run an op shop, but this to me is life-changing for a person and this makes it feel really worth what we're doing," she said.