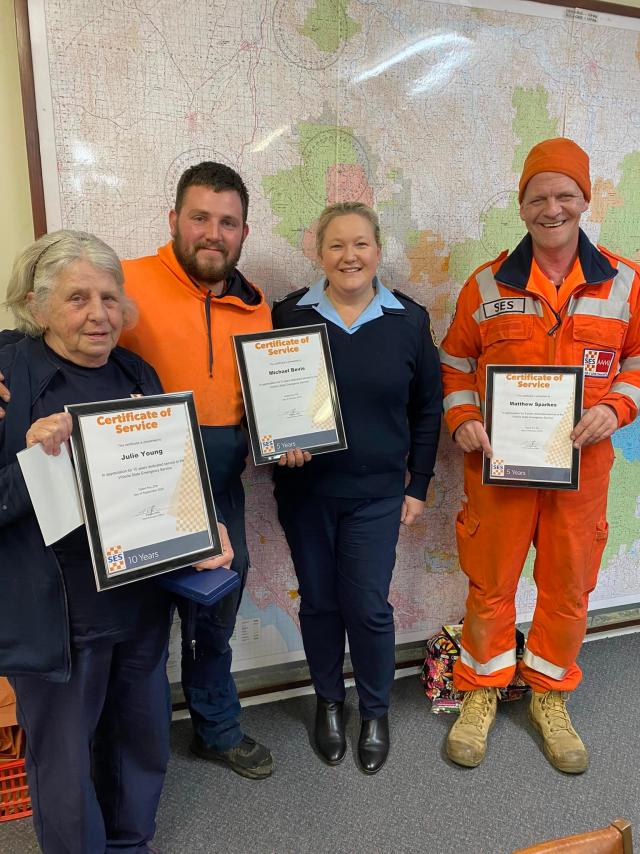 By Callum Ludwig
A few Upper Yarra SES members recently received recognition for the length of their service to the unit.
Matt Sparks, Michael Bevis and Julie Young all received a pin for five years of service, while Julie – also received a medal for hitting the 10-year milestone.
Mr Bevis said he and Matt have been a member now for seven years.
"We've done a lot of courses and helped out the community a lot in that time, Julie's a lovely lady and Matt and I have gone through a lot together as a team," he said.
"It's been a hell of a learning experience. You do a lot of interesting and unusual things that you wouldn't get an opportunity to do otherwise and be involved for a while comes with experience which you can pass on to other people that join up."
The unit has been busy in recent weeks, dealing with big and small fallen trees and building amage among other callouts, particularly with the heavy wins that recently hit the Upper Yarra.
Mr Bevis said even now he is still learning.
"There's a bunch of older members there that I look up to and they are still teaching us, and what they teach I can pass onto the newer guys. Over the next couple of years, I hope to step up and do a bit more than I have already," he said.
"We're pretty much a family, we all lean on each other, we occasionally see some not very nice things so we support each other and help in any way we can. It's a good feeling knowing that you can help someone or save lives when nobody else can."
Multiple members of the Upper Yarra SES have also completed training courses recently in areas such as AIIMS (Australasian Inter-service Incident Management System), Chainsaw operation and maintenance, RCR (Road Crash Rescue), SWAHS (Safe Working At Heights Systems) and Crew Member training to help ensure they can serve the region to the best of their ability.
Deputy Controller of Operations Matt Sparks said he appreciated being recognised for his service.
"I've enjoyed being with the people in the unit and helping the community. Having the right people in the unit who are qualified makes it easier, especially in the bad jobs, where things can be pretty bad, as well as in the good jobs," he said.
"It's also great the skills you learn in the SES for working and home life, you get to do courses that are paid for and you perhaps you wouldn't be able to do in a normal situation. I could rattle off hundreds that I have done."
Mr Sparks was also presented with epaulettes that signify his commitment to take on the role of Deputy Controller of Operations. He encouraged anyone interested in joining up to do so.
The Upper Yarra SES urges residents to call 132 500 whenever they are in need of SES assistance.