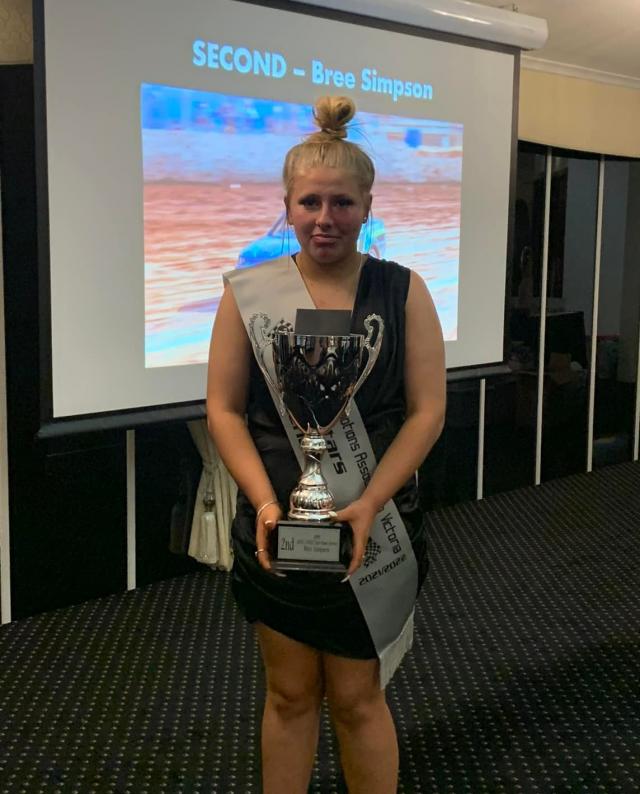 By Callum Ludwig
The Simpson sisters from Millgrove have been recognised for their impressive racing form at the (Junior Sedan Promotion Association) JSPA Annual Awards Night at All Seasons in Bendigo.
Both girls received participation awards, with Tamika also being awarded the JSPA Top Stars Encouragement Award and Bree finishing Second in both the JSPA and Aggregate Series.
Bree and Tamika said they felt good being recognised at the awards.
"Getting second in all places made me really feel like I was up there in the best racers, I am trying to get Aus 1 next season," Bree said.
"I think I had a good season, and I just want to get up there in points next season," Tamika said.
The girls put in a notably impressive performance in the Victorian and National junior sprint titles at the Alexandra Speedway in April and after the heats, Bree came home in 12th and Tamika right behind her in 13th in the A-main.
Bree said the sisters are off to Moama in one of the series rounds for their next race.
"I think we are gonna do a practice day before that as I have been offered to drive an XF Falcon, so would be driving that in a different junior class," she said.
"It might be scary at first, but I'd just have to adjust fast. It's a real-wheel drive and I've never driven one of those before."
The sisters have also recently competed in New South Wales and Queensland titles in June.
Bree said she her little sister is doing well.
"Tamika has had a few crashes here and there, but it's good to see her bounce back from them and not let them affect her too much," she said.
Millwarra Primary School congratulated Tamika, one of their Millgrove Campus School Captains, as well as Bree who now attends Upper Yarra Secondary College on their achievements.
Tamika said she was proud of her older sister.
"I never thought she'd be so up there and doing so well, I'm proud of her," she said.
The sisters thanked their parents, coach Mick, and their sponsors in a Facebook post as they head excitedly into the next racing season.