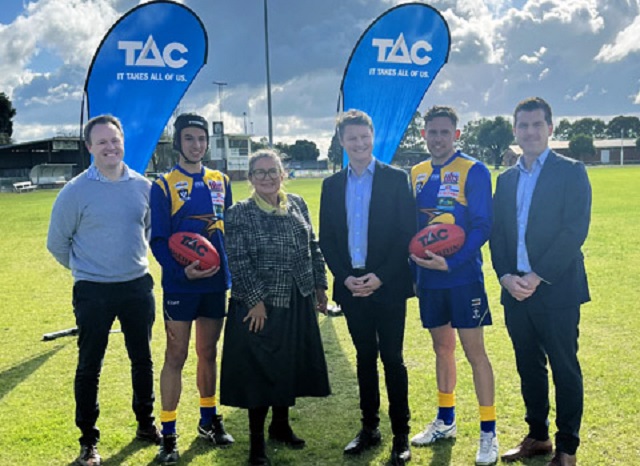 By Callum Ludwig
The Victorian Government is supporting the rerelease of the Transport Accident Commission (TAC) Club Rewards Program which began in 2021, rewarding community football netball clubs in promoting road safety.
AFL Victoria aligned clubs across regional and metropolitan leagues are eligible for up to $10,000 for actively trying to reduce road trauma around the club in line with National Road Safety Week this week.
Seville Football Netball Club Secretary Mick Morris said any initiative that is going to save lives is a good thing.
"100 per cent the club is interested, the most important thing is to get the message across, every little bit helps and the grant comes second, even though any grant that comes to a club is much needed," he said.
"The message is the number one point, of course, and if you can get it across to even one person, that's going to help."
To demonstrate clubs are making an effort to save lives on the road, they must be able to demonstrate in the application form that they have met two of the following six criteria:
How well did the club amplify and support the TAC in spreading important road safety messaging in the following areas; Speed, Drink/Driving, Fatigue, Distractions, Vehicle Safety, Young Drivers.
What measures did the club have in place to discourage participants from drink/drug driving at their club events?
How did the club support key messages to Learner Drivers and P-Platers?
How did the club engage their community in Road Safety Round (15-17 July).
Did the club watch the TAC AFL Victoria Road Safety Presentation?
Did club members complete the road safety survey?
If successful, the grants can go towards equipment, apparel or the delivery of programs at the club.
Mr Morris said Seville FNC would likely use their active social media platform to show their support.
"Over the past three or four years we have really concentrated on our Facebook page to get out there, there are all sorts of different ways [to promote] but I think social media is the main avenue nowadays," he said.
"If we were sent flyers or posters, we would send them out or hang them up around the rooms and could probably set aside a few minutes with the playing group to have a chat."
In 2021, a plethora of Outer East clubs were recipients of the grant including Woori Yallock FNC and its Junior Football Club (JFC), Warburton-Millgrove FNC, Wandin JFC and Yarra Junction FNC and JFC.
Mr Morris said the clubs he has been involved in already promote concerns about key road safety issues.
"Alcohol is a dangerous thing, as is sleep deprivation and fatigue or anything negative on the road," he said
"At Seville, we make sure folks are getting home all right, especially if someone's had one or two, maybe we make sure we get them a taxi. We've been like that as a club for a few years now and I think all clubs are pretty much the same.
In 2022, 94 people have died on Victorian roads, and concerningly there has been a rise in the number of young people aged 18-25 with the number of deaths at 19, up from 10 at the same time in 2021.
"Local football and netball clubs are central to Victorian communities, and we urge them to use their platform to make a positive and lasting impact on the lives of their members," said Transport Accident Commission CEO Joe Calafiore.
The requirement of sustained and continued efforts to promote road safety and address key concerns will be assessed by road safety experts from the TAC and representatives from AFL Victoria when reviewing applications before clubs are rewarded.
Minister for Roads and Road Safety Ben Carroll and Head of AFL Victoria Ben Kavenagh visited Shepparton Football Netball Club to announce the rerelease of the program and said local football and netball clubs can have a huge and meaningful impact on promoting road safety.
"The influence of local football and netball clubs in Victorian communities is far-reaching, and unfortunately, many local sporting clubs across Victoria will have experienced the impact of road trauma firsthand," said Mr Carroll.
"Our message and belief is clear – we, as community football people, can all have a meaningful impact in bringing incidents of road trauma down and the TAC Club Rewards Program is a terrific avenue to drive that positive change," said Mr Kavenagh.
Applications are to be completed and submitted by midnight Friday 12 August 2022, with recipients announced in September. Clubs can sign up and apply at:aflvic.smartygrants.com.
au/2022TACRewardsProgram and more information can be found at www.aflvic.com.au/tacclubrewards