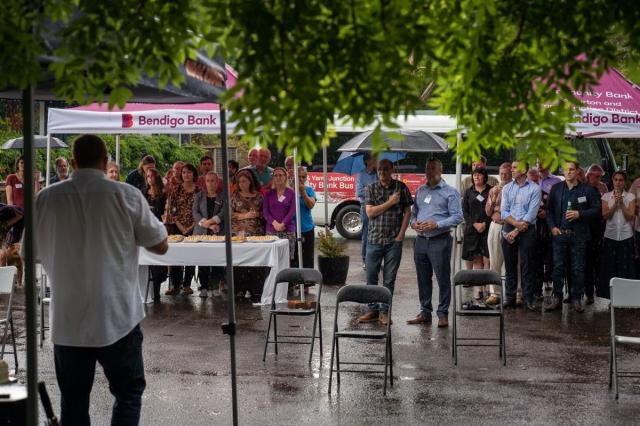 Despite torrential rain, there were smiles all round from the 70 guests invited to a celebration at Yarra Ranges Enterprise Centres Ltd (YREC).
On the 9th November, YREC took ownership of the property at 21 Woods Point Road, Warburton after leasing this property from the Victorian State Government since June 2000.
After the site was unexpectedly deemed surplus to the Government's needs in 2016, YREC faced an uncertain future. With a stronghold of business and community support via the "Save YREC" campaign, negotiations successfully enabled purchase of the property.
The celebration event included current and past Directors of YREC, including David Hodgett MP who was one of the founding Directors responsible for the establishment of the organisation in 1998.
Cindy McLeish MP was also a guest having supported YREC through the challenging process of purchasing the property by requesting the Planning Minister take moves to support the continuation of YREC.
Yarra Ranges Council Mayor Jim Child spoke passionately about the determination and energy that YREC displayed to reach this momentous milestone.
YREC's Executive Officer Alison Fitzgerald celebrated and reflected on the advocacy role she has played.
"Brick walls kept getting in the way so we would have to find alternative pathways to communicate the value of YREC and the need for it to continue within this community," she said.
"We lobbied hard for 18 months across all levels of government to raise awareness. A petition from within the local community and video of YREC were distributed to Ministers and people of influence. A survey was conducted that showed the economic impact of the current 20 tenants on the local economy was $600k annually. The strength and determination of YREC has paid off and we can now start our new beginning.''
As the proud owners of the property, YREC is in a stronger position to plan and grow the important role it plays as a respected and valued asset within the Warburton community.
The future will see YREC continue its working helping people in the community who have a great business idea, but often lack the resources and support to get a business up and running on their own.
Between 2000 and 2021, the agreement with the State Government has enabled YREC to assist 200plus small businesses as 'custodians' of the property, the value of business incubation has been demonstrated by 16 businesses graduating within a five-year period – 14 of those are still operating with many expanding, employing and exporting.
Upon graduation, many of these businesses have remained within the local area to provide much needed services and products to the community.