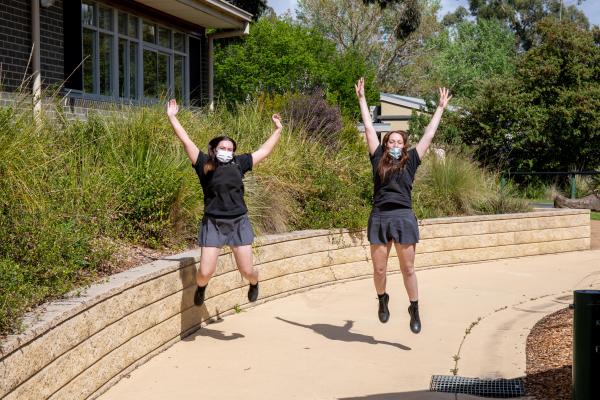 By Renee Wood
Year twelve students have proven their resilience, determined to see their final year through after most of their senior schooling for the past two years has been at home.
Now after months of remote learning during lockdown six, they're back on the school grounds preparing for final year exams.
Students and teachers have both enjoyed the first week back, returning to school for the GAT exam on Tuesday 5 October.
The Healesville High School captains said they were thrilled to be back in the classroom.
"It's really good to see everyone and see the teachers and be able to do on site learning, also to ask for help exactly when we need it and in person," captain Sasha Chandler said.
"Everyone's excited to be here. They want to finish off their work and get ready for exams because it's our last couple weeks so it's a great feeling," captain Jacinta Scragg said.
Healesville High School Year 12 Coordinator Wendy Jackson said students were positive about going into the GAT, which is usually a nervous occasion.
"They were relaxed, happy and managed because it's a three hour exam it's huge. I think it's part of this idea that they want to get back to normality, so even though they did the exam they were back on site and all together and I think that's important to them," Wendy Jackson said.
Now all classes will be dedicated to final year exams for the next couple of weeks before they begin.
"We're going to be catching up on all those little bits and pieces you really missed out on in face to face learning, all of the stuff that can only really be taught in person," Miss Scragg said.
Although nerves are high their determination to succeed is greater.
"I'm a little bit nervous about it because it would have impacted slightly, but it just means that you have got to work harder. Knowing that the whole state's in the same position puts your mind at ease – everyone's doing the same thing, they've had the same sort of issues so we're all in the same boat and we can do it together," Miss Chandler said.
All students will also have the opportunity to submit a student statement discussing what disadvantages they have faced from remote learning which will be taken into consideration when deciding results.
"It's an individual thing, it's different for every every child. Teachers will have access to the data that is generated and on the basis of that, make a professional decision on any disparity that exists between their actual scores achieved, and what might have been expected if we hadn't had the disruption," Ms Jackson said.
The next group of students who will return to school will be preps from October 18 for three days a week and grade one and two will return for two days.
And for high school, years 7 and 11 students will return to on-site classes on Tuesday October 26 for five days each week.
From November 5, schools will be operating as normal.