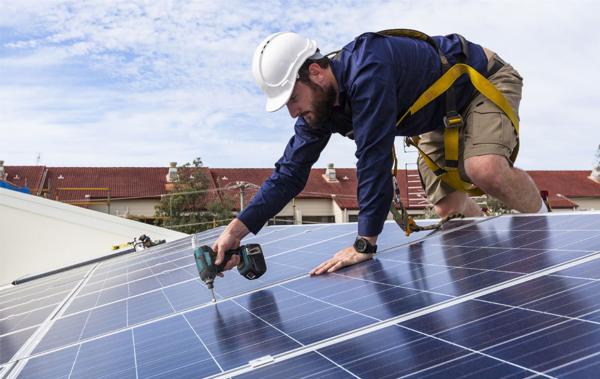 By Jed Lanyon
Local renewable energy group, Healesville CoRE, has obtained a $428,500 grant from Sustainability Victoria to establish and develop a community power hub for the greater Yarra Valley and Dandenong Ranges area.
Minister for Energy, Environment and Climate Change, Lily D'Ambrosio, made the announcement on Thursday 8 July as $3.73 million was allocated to seven not-for-profit and non-government organisations to work within their regions to develop community renewable energy projects.
Healesville CoRE (Healesville Community Renewable Energy Inc) formed 4 years ago, running renewable energy programs in the Healesville and surrounding areas. They will now establish and develop the Yarra Valley Community Power Hub.
It will be made up of Healesville CoRE and seven other community energy groups: Yarra Glenergy, Clean Energy Nillumbik from Kangaroo Ground, Upper Yarra Community Power from Warburton, Yarra Valley ECOSS from Wesburn, Dandenong Ranges Renewable Energy Association from Emerald, Bunyip Renewable Action Group and Eastern Climate Action from the Whitehorse City Council area.
Healesville CoRE president, Jeff Barlow, will become the new executive officer for the Yarra Valley Community Power Hub.
"We have worked very hard over the past four years, putting in thousands of hours of voluntary work into developing awareness of renewable energy, and running renewable energy projects with our community, and we are thrilled to now be able to collaborate with seven other community groups to initiate, develop and deploy renewable energy projects across the greater Yarra Valley and ranges area."
"Together with our industry partner, Komo Energy, who will provide technical, professional and legal support, we are now well situated to develop a collaborative partnership with the other community energy groups to develop a range of small to medium renewable energy projects," Mr Barlow said.
Mr Barlow said it was an incredibly important initiative by the Victorian Government.
"It will have a positive impact on our community, with the potential to support local businesses, create local employment and develop greater community support for renewable energy and other clean energy initiatives. The awarding of this grant now creates the opportunity for an exponential increase in community renewable energy in the region."
Yarra Ranges Council Mayor Fiona McAllister said the grant was a very positive development.
"I am thrilled that Healesville CoRE will be leading a new Community Power Hub in the region, and will be working with other community renewable energy groups in Yarra Ranges and neighbouring municipalities," Cr McAllister said.
"Healesville CoRE was formed only a few short years ago and with support from Council has gone from strength to strength – this is community action at its best."
"We're working with our communities across the greater Yarra Valley and (Dandenong) Ranges region to implement local renewable energy projects, to enable the transition to a low carbon, clean energy future," Mr Barlow said.