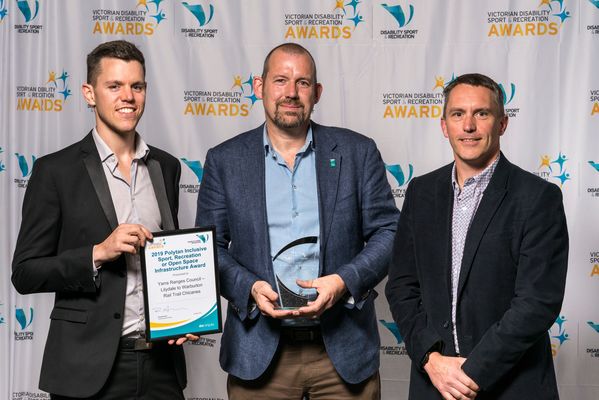 A project aimed at improving accessibility on the Lilydale to Warburton Trail by Yarra Ranges Council has won the Inclusive Sport, Recreation or Open Space Infrastructure award at the 2019 Victorian Disability Sport and Recreation Awards.
The project involved redesigning and lengthening chicanes along the trail to make it more accessible for people with a disability and allow for a wider turning circle of hand cycles, tandem bikes and other non-standard unpowered vehicles.
Walling Ward Councillor Len Cox said the project was undertaken after local resident James Wood shared his experience riding his three-wheeled bike on the Warburton Trail with the disability Advisory Committee (DAC).
"James told us about how the bicycle chicanes on the trail were too small for his three-wheeled bike. The only way to get through the chicanes was to be lifted over them, which was simply inaccessible for people with a disability who want to use the trail independently," he said.
Cr Cox, who represents Council on the DAC, said council's teams then worked with James to redesign the chicanes so they would be universally accessible for people with a disability, while still suitably slowing down riders at road crossings to keep them safe.
"This project has been a great example of how the DAC can influence and advocate to Council for improved services and accessibility, and I'm proud of the work being done here," he said.