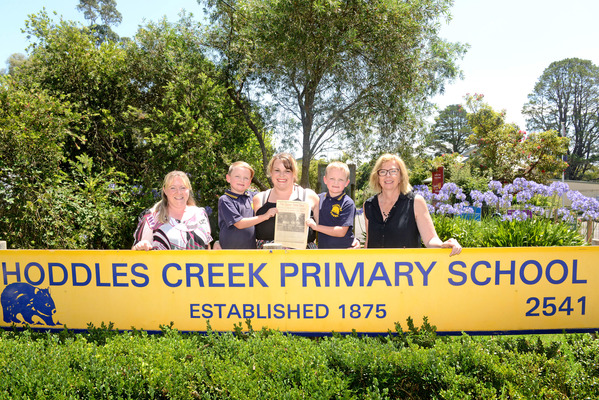 By Kath Gannaway
Twins Wil and Noah Joseph continued a family tradition when they walked through the gates of Hoddles Creek Primary School on Wednesday, 31 January.
Their mother Danielle Gebbing and her sister Melissa, also identical twins, were preppies at the school back in 1989.
There was a real sense of déjà vu for Danielle with the Mail recreating the Upper Yarra Mail's front page photo with the excited boys as they prepared for their first day at one of the valley's many small rural schools.
Danielle said her memories of the day are wondering what all the fuss about being a twin was about.
"Finding out that it was a bit special at Hoddles Creek made me feel a bit special," she said.
"For the boys, I think they felt special because they were going to be in the paper. Before that being a twin is just the way you're born," she said.
In fact, as UYM's 1989 story revealed, teachers at Hoddles Creek Primary have been seeing double for a very long time.
Danielle and Melissa were pictured with Darren and Ryan Koll, bringing the tally of twins back then to nine, according to Gladys Gramlick whose research revealed that Amy and Doris Worlley were the first twins to attend the school back in 1933.
"Since then the Worlleys have been succeeded by Christine and Dianne Holden (1962), Faye and Glenda Holden (1962), Julie and Glen Drowley (1963), Kim and Jodie Amiet (1978), Andrea and Sara Willemsen (1984), and Peter and Trevor Cross (1986)," she told UYM back then.
Acting principal Leanne Woolley said the school's 'twin' story took another interesting turn when the boys' teacher Carolyn Boyd revealed that she also is an identical twin!
"Wil and Noah are excited to begin school at Hoddles Creek and to attend the same school their mum attended," Ms Woolley said.
"They are looking forward to making new friends, playing with the school chickens, learning Japanese and singing in the choir," she added … and that's just a sample of what the school has to offer.
The boys, two of six new preps, said day one was simply "the best day ever".
Just how many twins have attended the school between 1989 and 2018 is a research project waiting to happen. If you're part of the school's great 'twin tradition' the Mail would love to hear from you and update the story. Phone 5957 3700 or email kath.gannaway@mailnewsgroup.com.au .