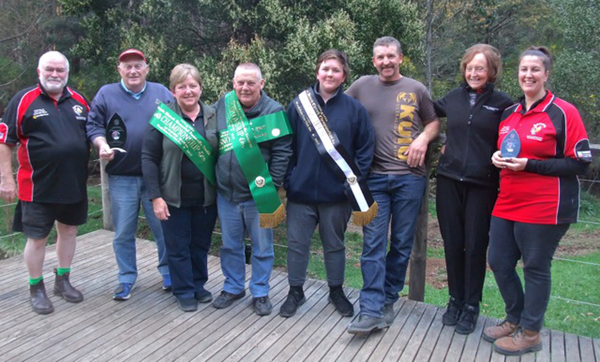 By John Wood
At the Woods Point Gun Club, there was a very good roll up for the Bernie Elstrek Memorial Championships that saw a great shoot eventuate.
Bernie's wife, Beryl, and son, Ross, also attended to honour Bernie's memory.
Two visiting shooters, Jim and Marlene Niland from the Alice Springs Gun Club, made a surprise visit after a long drive from the centre of Australia.
The Wood Ducks who attend the Alice Springs Masters Games know them well.
The Eye Opener resulted in cash wins for Shane Stokes and Ross Elstrek in AA Grade, 30/30 each.
Jim Niland, Daniel Chinn, Brendan Grimes and Allan Kidd, 29/30, received a share of the A Grade cash while Marty McLachlan won B Grade all to himself, 30/30.
John Winters' 29/30 was enough for him to take C Grade.
The first of the Championships was a 25 target Double Barrel sponsored by John and Annette Wood.
Junior shooter, Troy Grimes was the first to return a perfect 25/25 but with Bernie Stokes, Shane Stokes and Ross Elstrek also matching his scores, there was a shoot off required.
Shane was the last man standing at 34/34 to take the championship sash and the AA Grade prize.
Ross Elstrek was second in AA, 25/25.
Bernie Stokes won A Grade, 31/31, from Troy Grimed 30/31 and after another short shoot off Geoff Hill, 28/30, and Tony Armstrong, 27/30, took B Grade first and second.
John Winters showed that he could shoot well even in spring and won C Grade 24/26 from Shawn Wood, 23/26.
The main event was the 30-target Continental Handicap Bernie Elstrek Memorial Trophy sponsored by Beryl, Paula, Ross and Peta Elstrek.
Troy Grimes and veteran Bernie Stokes returned the best scores of 28/30.
After a short shoot-off, Stokes held the trophy high, 30/32 from Grimes, 29/32 in second place.
McLachlan's 27/30 was enough for the third place prize while John Winters had to shoot off against Kirsten Chinn, Steven Bedggood, Shawn Wood, Daniel Chinn, Peter West, Phillip Wood, Ross Elstrek and Allan Kidd to take fourth place, 36/40.
Kirsten Chinn was excited to win the Front Marker Trophy, 26/30.
The day was completed by a 20 Pair Deauville Doubles Championship sponsored by Glen and Shawnti Coolahan shot from the 20m handicap mark.
Teams of two shooters shot at two targets released at the same time but both targets had to be broken to earn a score.
Carol and Shane Stokes teamed together to take the sashes outright, 16/20 from Troy and Brendon Grimes in second, 18/23, Steven Bedgood and Ross Elstrek third, 18/24 and Phllip Desmond and Peter West fourth, 17/24.
The Bernie Elstrek Overall High Gun – also sponsored by the Elstrek family – was a surprise win for junior shooter Troy Grimes 68/75 from a top class field of competitors. Congratulations Troy!
The next shoot is the President's Trophy and Championships on Sunday 26 November starting at 10am.