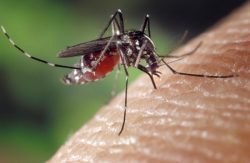 By Jesse Graham
Two Healesville residents have been diagnosed with the mosquito-borne Ross River virus, which can result in year-long symptoms and treatment, according to a local doctor.
Get Well Clinic's Dr Khoi Bui said on Wednesday, 15 February, that a 41-year-old woman and a 20-year-old man had been diagnosed with RRV in the last two days after blood samples were sent off for testing last week.
Dr Bui said he wasn't aware of any other RRV diagnoses in the area in recent months, but that warm and wet weather provided perfect breeding conditions for mosquitos, which can carry the virus.
"It's common in certain parts of Australia – it has been reported in Victoria … but it hasn't been reported in the Yarra Valley," he said.
The two patients reported joint swelling and pain, fatigue and muscle aches – all symptoms of RRV, which can continue to display symptoms in some people for up to a year.
Infected people may also develop rashes, have enlarged lymph nodes and feel pins and needles on the soles of their feet or palms of their hands.
Symptoms can become apparent between three to 21 days after being exposed to the virus, which cannot be spread from person-to-person.
Dr Bui said there was no vaccine for the virus, and that only symptomatic treatment was available for people with the virus until they recovered.
He said that residents should take precautions to avoid mosquito bites, such as wearing long clothing when outdoors, using insect repellents, avoiding light-coloured clothing when outside in the early evening and using indoor insecticide in bedrooms if mosquitos are an issue.
Finding mosquito breeding places – such as buckets, old tyres or containers outdoors with stagnant water in them and emptying them – can help reduce mosquito populations.
"Ross River virus is only rarely deadly, but it can take a long time for a patient to fully recover from infection," Dr Bui said.
"We just want people to get the right information and to go see a doctor."
The diagnoses have been reported to the State Government.
For more information about the virus, visit bit.ly/2lhQyKF (case sensitive).