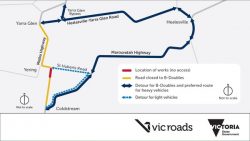 By Jesse Graham
Drivers will have to detour via the Maroondah Highway to get to Yarra Glen from Monday, 27 February to 10 March, with major road reconstruction works set to close the Melba Highway through Yering.
VicRoads announced on Wednesday, 15 February, that road works would take place between Cambus and St Huberts roads in two stages, starting at the end of the month.
From Monday, 27 February to Friday, 3 March, the section of the highway will be closed for 24 hours a day – from Monday, 6 March to 10 March, the road will be closed from 6am-6pm.
The road will be open to traffic on Saturday 4 and Sunday, 5 March.
People driving small vehicles are being asked to detour via Maroondah Highway and St Huberts Road to get to Yarra Glen, while B Double trucks and heavy vehicles are being asked to detour by going to Healesville and up Healesville-Yarra Glen Road.
VicRoads' director of operations, Michael Barker, said the works would see the removal and replacement of "weak pavement material near the Stringy Bark Creek bridge".
"We recognise this is a popular tourist route and the road will be opened on the weekend between the first and second stage of works, with reduced speed limits, so people can easily access the Yarra Valley region," Mr Barker said.
"Heavy vehicle operators are particularly encouraged to allow for more travel time as the detour route is extensive through Healesville."
Mr Barker said the works would be dependent on weather.
Parents with children at Yering Primary School coming from Yarra Glen will have to drive to the school via St Huberts Road and Maroondah Highway, looping back up the Melba Highway in Coldstream.
For more information, visit vicroads.vic.gov.au or call 13 11 71.