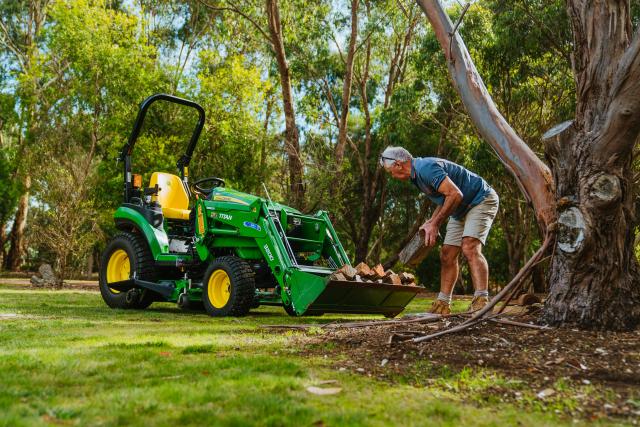 As fire season approaches, take charge of your safety and security by visiting the team at Brandt Lilydale. Offering a comprehensive range of John Deere mowers and Stihl equipment, Brandt is your one-stop shop for everything you need to maintain your property this summer.
When it comes to safeguarding your home, a well-maintained lawn is a critical component of it. John Deere, a name synonymous with reliability and innovation, has been trusted by property owners for generations.
Whether you have a sprawling estate, a modest backyard, or a commercial property to protect, John Deere mowers come in various sizes and configurations to meet your specific needs. From the compact and agile models for tight corners to the heavy-duty workhorses that can tackle large acreages, these mowers are designed for both efficiency and durability. The advanced cutting technology incorporated in John Deere mowers ensures a clean, even cut, which not only enhances the aesthetics of your property but also reduces the risk of fire. Shorter grass and well-maintained lawns act as natural firebreaks, preventing flames from advancing and providing a vital layer of protection.
While a well-kept lawn serves as the initial barrier against wildfires, dense undergrowth and overhanging vegetation can still pose significant risks. This is where Stihl equipment, also available at Brandt Lilydale, comes into play. Stihl is renowned for manufacturing high-quality, dependable tools that are essential for clearing and maintaining firebreaks.
From chainsaws for swift and precise tree trimming to powerful brush cutters that can clear dense vegetation, Stihl's range of equipment empowers property owners to take control of their property. Stihl's products are not only durable and reliable but also designed with user safety in mind, providing peace of mind when undertaking essential fire prevention tasks.
With a summer approaching where the likelihood of bushfires looms large, proactive fire season preparation is non-negotiable. Brandt Lilydale's range of John Deere mowers and Stihl equipment is a lifeline for those who seek to prepare their homes, businesses, and communities.
With Brandt Lilydale, you're not just buying equipment; you're investing in peace of mind. Prepare, protect, and prosper in the face of fire season – because with Brandt Lilydale, you're always a cut above the rest. Contact the Lilydale team on (03) 9735 0166 or visit brandt.ca/au.