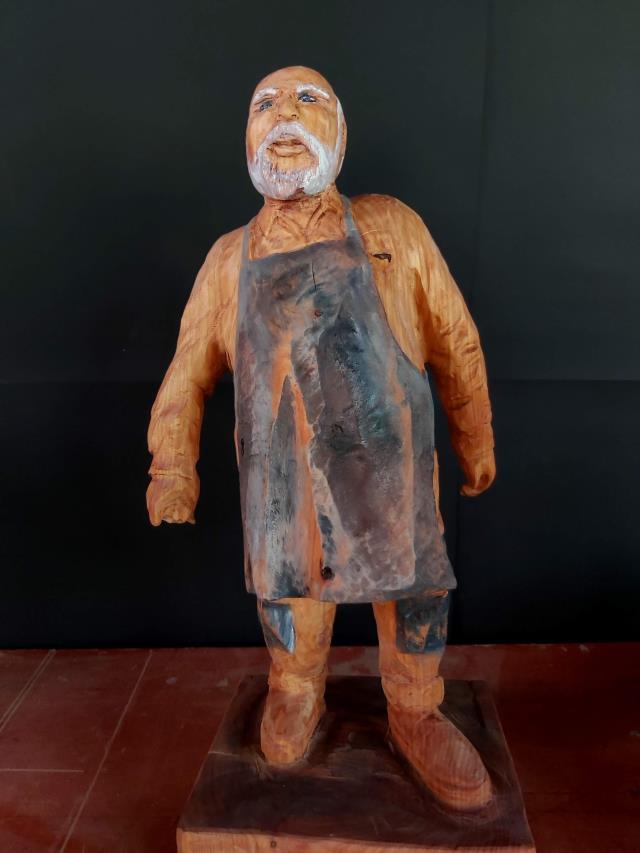 By Renee Wood
Warburton Chainsaw artist Shlomit Moria found comfort during the latest lockdowns by creating sculptures of her friends.
"It really helped me mentally to deal with the lockdown, as the time went by I sank into a bit more depression and a bit more sadness," Ms Moria said.
"It got really hard and I wasn't even motivated to do any work, so thinking of this project really gave me inspiration and brought me out and helped me to get back to my happy self – I had stuff to do, to think about and to figure out,"
Now her creations will be on display at her first solo exhibition named 'Warburtonians' which is launching Thursday 16 December at the Warburton Waterwheel Gallery.
The chainsaw artist carved out several wooden sculptures of her friends from the area which will all be revealed at the show.
"We have so many amazing people and just really warm people that helped each other during the lockdown – it was a very hard time for everybody and I just missed my friends.
"When I worked on these people, it was like spending time with a friend, as I worked on their hands and their beard, whatever, it was like spending time with them."
Ms Moria started working with wood in 2015 but said an experience before the pandemic began heightened her craft.
"Just before Covid I was fortunate to be in north India, in traditional Tibetan carving classes in a Tibetan refugee place and what it taught was to slow down and that's really what set my work to the next level.
"It really helped me to stop and instead of just trying to cut it, as I think it should be, but really observe and see and really look at the reference and slow down and take my time."
Ms Moria is excited to share her creations and growth with the community at the exhibit.
"I'm very excited, it's great – there is a little bit of a buzz in the community, I know that some people are looking forward to see it and to see if they can identify themselves."
The show will run until 4 January 2022 at the Waterwheel Gallery in Warburton.