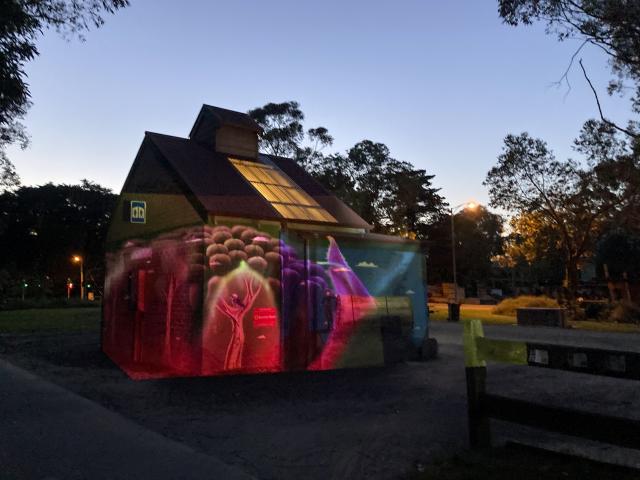 People of Millgrove have been photographing the town over the past few months in lockdown, but now photos of the people, and their pets are needed.
Over 50 photographs have been submitted to the 'Millgrove Art Attack' project which will culminate in a projection lightshow event on 9 April 2022.
Project manager Warburton artist and photographer Suzanne Phoenix said, "The photographs contributed are a broad range of scenes of Millgrove and I am very excited about how they are going to look projected onto the iconic Millgrove surfaces and spaces."
"The thing that is missing is the faces of people and their pets too, so I am inviting people to have their portrait taken with me."
On Saturday 18 December between 12pm and 2pm near the Millgrove Shops picnic tables Suzanne will be taking portraits that will be included in the projection event.
It can be just with individuals or also your cat or dog, bird or horse or any pet you'd love to see in the event.
There are still two Millgrove Photowalks scheduled on Saturday 28 February for anyone interested in taking their own photographs, no experience is necessary, and submissions can also be made online until March 2022.
Australia's Little Projection Company are presenting the projections with their Projector Bike and the April event will light up the Upper Yarra Valley in its own unique way, like Gertrude Projection Festival does in Collingwood.
Bookings are needed for the Photowalks but not the portraits, for all the information and submissions see https://suzannephoenix.com/millgrove
Millgrove Art Attack is funded by Yarra Ranges Council.
Photographers featured in the projections (of images provided) – Heather Walker, Brooke Powell and Dakini Maddock.