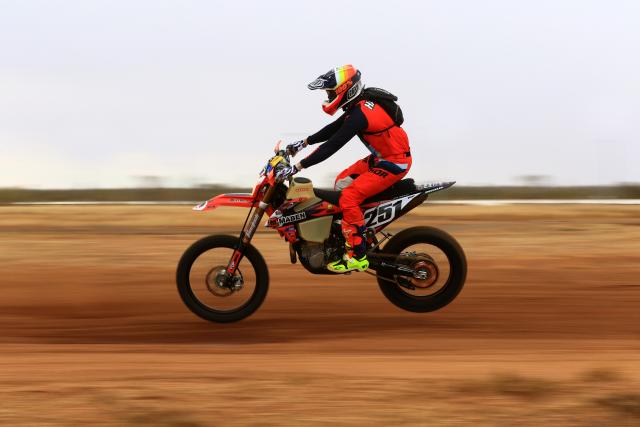 By Renee Wood
One of Australia's most grueling off-road race events is approaching, with Yarra Glen resident Sam Handley preparing to take on the Tatts Finke Desert Race.
Mr Handley will be heading to Alice Springs ahead of the Queen's Birthday weekend event to take on the two day 460 kilometre race in the motorbike category.
It's no easy feat for both four and two wheeled competitors as they face the elements and heat on the 226 kilometre multi-terrain course back to back.
"Between hard sandy sections then rock sections on the track, it's a grueling ride and it's very dusty. As far as it goes it's one of the most difficult races that Australia has to offer," Mr Handley said.
The heat another factor to battle with in the Northern Territory's desert – Mr Handley said it can be anywhere between 20 and 30 degrees while racing.
"Two years ago, one of the days down there was over 30 degrees – two and a half hours of a max heart rate is very challenging, especially because you have to turn around the next day and do it all over again."
It will be the fifth time heading to Finke for the 27 year old who has a proven track record of staying in the top end of the pack.
In 2017, Mr Handley first raced on a 251cc two-stroke and managed to secure third in his class and 63rd outright of around 650 competitors.
The following year there was a shift in acceleration, managing to clear first in his class and 23rd overall.
Jumping up to ride a 500cc four-stroke last year, Mr Handley's most recent result was just as impressive crossing the finish line at 16th outright.
The bike race was called off for the second day due to issues with the car race, seeing Mr Handley record an average speed of 111.8 kilometres per hour, finishing in two hours and two minutes.
This year will be a test for the rider, completing the two days on a four-stroke for the first time.
Mr Handley said he hasn't set any specific goals with completing the race a great achievement for all riders.
"The most important thing is just making it there and back and if I do that safely and efficiently, then my results should be somewhere around where I would like to be, which is around the pointy end."
Mr Handley will be completing a three hour enduro circuit in Victoria in the lead up, with time on the bike vital to get ready for the day.
However, keeping a clear head and maintaining mental focus is one of the most important parts of what's needed.
"What some people don't understand with Finke is getting your head wrapped around riding a motorbike at an average speed faster than you can drive a car on any road in Australia legally.
"If you don't have that six inches between your head right, then it doesn't matter how fit you are, doesn't matter how quick your bike is or anything like that.
"I'd almost say having a strong mental preparation and being very strong minded is probably the thing you need the most to go and race up there competitively of course."
Mr Handley has been on the bike since he was three but said you don't have to have previous race experience to sign up for the desert race.
His dad, Chris Handley, in recent years completed the ride in his early 60s, ticking it off his bucket list like many other riders.
"Probably half of the competitors every year that come, it's a bucket list item for them…So it's definitely a race for everyone, you don't have to race it as competitively as what I take it."
The Tatts Finke Desert Race begins Friday 10 June.