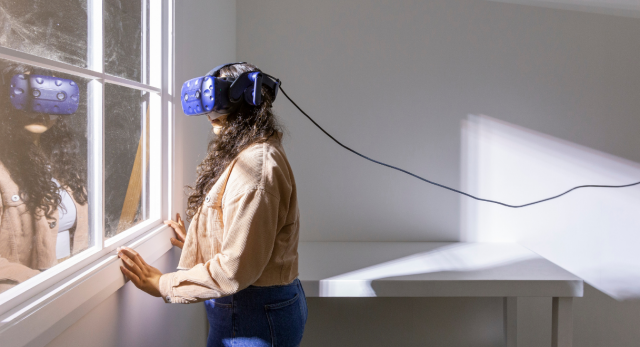 By Mikayla van Loon
Art is often thought-provoking, inclusive and immersive, and it will be using all of those qualities to open up a conversation about mental health at the The Big Anxiety Festival.
This is the aim of a creative festival coming to Melbourne this spring and wanting to help facilitate the dialogue, the Yarra Ranges will become host to numerous events.
The Big Anxiety Festival was first established in Sydney in 2017 but this will be the first year this innovative festival of lived experience will be showcased in and around Melbourne.
Yarra Ranges Regional Museum program director Megan Sheehy said as the biggest arts and mental health festival in the world, Yarra Ranges Council wanted to ensure people in the regions were being given the opportunity to explore their own mental health.
"The focus audience for the festival is really the 65 per cent of Australians that we know don't seek help around mental health concerns and all the different kinds of projects provide a way to open up new conversations around mental health," she said.
"We're not in the metropolitan region and we're such a huge geographic area. We have really struggled to keep up with the mental health demand across the region with the difficult experiences they're going through at the moment.
"We are also a very creative region. So I think those two factors combined, it was almost the perfect landscape to be very open to a festival like this."
Ms Sheehy said the entire project and concept of the festival is something she finds quite exciting, particularly because it invites a personal reaction from each attendee.
"I find the premise of it quite incredible. It's taking such a different view. It's asking people what is normal? Or what is wellbeing for you, so that people can define that experience for themselves and we all know that looks very different for every single person."
Given the events of the last two years, Ms Sheehy said the exhibitions and projects, which will be showcased across different locations in the Yarra Ranges, are designed to support our recovery as a region.
Edge of the Present, a mixed reality experience, will combine the physical environment of Arts Centre Warburton with a virtual reality headset in a 10 minute immersive experience designed for suicide prevention.
"It was inspired by neuropsychological research into how memory and imagination work and was developed in collaboration with psychologists, mental health specialists and people with lived experience of suicide survival.
"We know that we have a high need in the Yarra Ranges in the Yarra and Upper Yarra areas around mental health. This profoundly beautiful experience presents a new way for the arts to make change for people with mental health concerns."
The experience aims to cultivate positive future thinking – the feeling that our actions can lead to helpful and positive things happening in the world.
From mixed reality to augmented reality, coming to the Yarra Ranges Regional Museum's Box Gallery, Hard Place/Good Place will share the experiences of seven young people and their emotional recovery following last year's storm event.
"We're really interested in understanding how it's changed their relationship to place and being both a hard place and a good place to be in.
"So a really difficult place because of the environment and that crisis and the impending thought that these challenges are going to be increasing in nature. But it's also a good place because there're so many stories about hope and community coming together."
The young people who took part in the project are aged 14 to 25, an age group Ms Sheehy said whose "voice is not often heard in these circumstances, but of course, it's their lives and their future that is so severely impacted by something like the storms."
Ms Sheehy said Hard Place/Good Place is a storm recovery project developed in partnership with the UNSW, as well as part of the Yarra Ranges Council's broader recovery response.
"The idea of this project is to use the capacity of the arts and storytelling to make sense of what has happened and to shape the meaning-making around an event like the storm."
A further four creative displays, workshops and exhibitions will run throughout the duration of the festival in the Yarra Ranges, with a performance called 'To the fallen trees', photography workshops with UK photographer Daniel Regan and a film screening and Q&A session with the Grace Dance Company at Burrinja.
The fourth project will be an exhibition by artist Lucinda Makin at The Memo in Healesville called Lost in Serenity that explores her own mental health struggles and how she uses her artistic practice and the power of music to find a place of calm and wellbeing.
Moving forward, Ms Sheehy said she hopes The Big Anxiety Festival will inspire connections between artists, health workers and mental health workers for future projects.
"The hope is that this festival helps people think differently about mental health, to ask questions about mental health and to come together to appreciate how arts-based approaches can have a huge impact on our wellbeing and mental health."
To book a session time for some of the events or to find out more information, go to https://www.yarraranges.vic.gov.au/Experience/The-Arts/The-Big-Anxiety