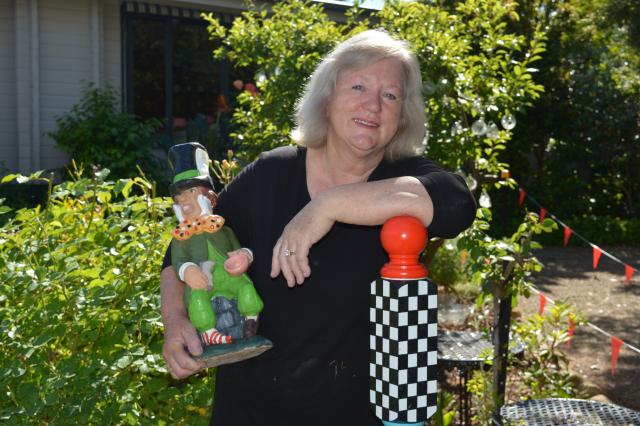 By Renee Wood
Upper Yarra residents are being invited to take a trip down the rabbit hole and enter Coldstream resident Jo Bartlett-Brown's Alice in Wonderland themed open garden.
Jo has been putting her artistic nature to good use during the lockdown, re-purposing hundreds of items to fit the theme to decorate the garden for the event.
"I started to go to the tip shop, the op shop and all the different places to get cheap things that fit the theme and I just got carried away and had the time my life and now it's going to be open for not one day, but for seven," Jo said.
It will be a tea party galore, with Alice, the Mad Hatter, Queen of Hearts and White Rabbit all familiar faces that can be spotted in the garden displays.
The event is a fundraiser for Coldstream CFA's redevelopment project to help fit out the new station.
"My husband has been in the CFA for nearly 40 years and just the concept of putting back, if everybody puts back something it just makes it a better world."
The event is also being held to bring joy to the local community as many families will be familiar with Jo's artwork displayed on her fence.
The idea for the open garden grew from Jo's efforts turning her fence into a gallery wall for families to enjoy when going for their daily exercise during lockdowns.
Not long after, parents expressed to her that the revolving art was the only way they could get their kids out of the house.
"I could hear through my fence the kids squealing with laughter or pointing and I could hear the things parents were saying, and it was so positive, I was so wrapped."
Jo then launched an online auction which also gained a positive response.
"And then as the lockdowns continued, I thought now I need to do something bigger and better."
The open garden was first schedule for October but due to the extended lockdown and home density limits it was postponed.
But now it's full steam ahead for the 2 Murrac Street open garden, which will open Friday 10 December, Saturday 11 December and Sunday 12 December and Friday 17 December, Saturday 18 December, Sunday 19 December and Monday 20 December from 10am-4pm.
Donations are welcome at the gate, with proceeds going to Coldstream CFA.