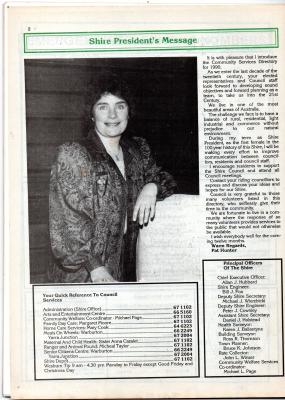 By Renee Wood
Sadly former Upper Yarra Shire President Patricia Hunter has passed away in Queensland after battling cancer on Saturday 6 November.
Yarra Ranges Council Mayor Jim Child is also a past Upper Yarra president and said Ms Hunter was well loved in the community and a trailblazer becoming the first female shire president ever in 1990.
"She had a strong connection to the community and to actually hold that position back in those days as a female when it was a male dominated scene, it was so good to see her in that position and then what she went on to achieve as well," Mayor Child.
Ms Hunter's passion and dedication to the west ward and entire shire brought more vital services and growth to the area.
She lead the project 'leaf program' which saw Yarra Junction get its own library, which was called the Upper Yarra Library.
Yarra Junction Library leader Judy Cousins said it was a much needed asset and still remains so today.
"The infrastructure of having a library helped with the development of the whole area, because before that we had a mobile service here that operated through the Upper Yarra area. It also supported a lot of the local schools in the area," Ms Cousins said.
A plaque still remains on the wall, noting the day in the in 1993 when more than 200 people came together to celebrate the opening.
"She still resonates with a lot in the community and that library is very dear to the community," Mayor Child said.
"When we look back now at the facilities we have that were put there all those years ago, they're still vibrant, and much loved by residents and they're providing such a great service."
"The first thing that always resonates with me is that Pat was a leader in gender equality, she proved that women could step up to the plate and do the civic responsible jobs and she did that so well."
Ms Hunter also worked with other community groups and was a valued member in the shire and community.
"She was involved with a lot of the schools, a nursing mothers group here and rotary club," Ms Cousins said.
The Woori Yallock Football Club was also a big part of Ms Hunter's life.
"She was probably one of the first female trainers we had in local football in the URL and footy club, and she was so good and everyone accepted her and she did a great job," Mayor Child said.