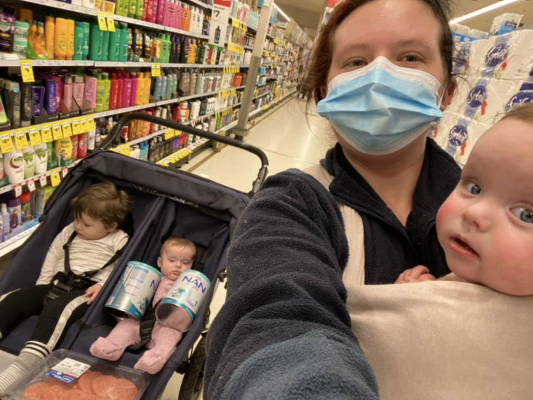 By Gabriella Payne
We all know how tough lockdowns can be and with Melbourne now taking out the dreaded title of 'most locked down city in the world', we've all had our fair share of challenging days.
Being isolated at home has been hard for everyone – but for new mums with young kids, it's arguably been even harder.
With three kids under three (a two year-old and seven month-old twins), young mum Lauren Stevens said that she had found the past year "really hard", as she'd struggled to stay positive and get the support she needed while stuck at home.
"It's been really hard thanks to having three under three, a pandemic, a lockdown – and because that all wasn't enough, I've been struggling with postnatal depression as well," Ms Stevens said.
"After the twins were born, I expected to be a lot more supported by family, but it's been so hard to get out – so I think that's where my depression came from."
Having experienced fertility struggles, Ms Stevens said that she felt blessed to have her three little "miracles" – but during these unprecedented times, it was really challenging to stay connected and it could be really lonely at times.
Stuck at home and scrolling through social media one day, Ms Stevens stumbled upon an advert for an app that caught her eye.
"When I found 'Peanut' [the app] it was described as being like 'Tinder for mums'," Ms Stevens said.
"That made me laugh and I thought, 'oh well, there's nothing to lose by having a look', and so it just went from there."
A meeting place for like-minded mums, 'Peanut' was just the thing Ms Stevens needed and before she knew it, she had discovered a great group of women experiencing similar things to her in her local area.
"I am glad I [found 'Peanut'] because I have made a close group of friends and am talking to other amazing mums also," she said.
"At first I was really shy and didn't know what to do, but now I've found a great group of people and connected with other mums in the south eastern suburbs, with similar aged kids and similar interests to me."
Ms Stevens said that the app provided a safe space for these mums to share their thoughts and vent their frustrations, and it was such a great community filled with the support they all needed during these difficult times.
Not only is 'Peanut' a safe space for mums, but it also allows women experiencing fertility issues and those going through menopause to connect with one another.
"I've been posting in local Facebook groups about my experiences with 'Peanut' as I'm just trying to get the word out there to help support other mums," she said.
"It's just fantastic to have someone to talk to and a place where you can share your experiences."
Ms Stevens said that post-lockdown, her and the other mums she had met via 'Peanut' who lived in Melbourne's south east were planning to get together in person with their kids, and she couldn't wait for that day to arrive.
She encouraged others facing struggles to reach out and look into the app, as it had made a world of difference in her life.
For more info, head to https://www.peanut-app.io/