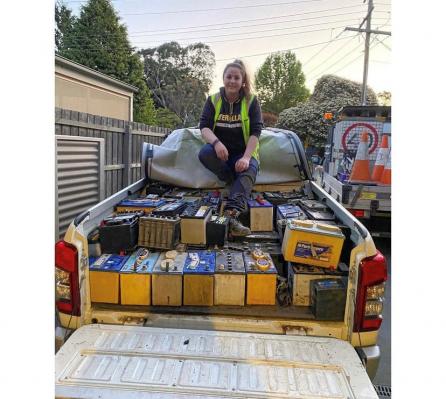 Hillcrest Fire Brigade's Rochelle Poulton is doing more than just hitting the stairs for the Firefighter Stair Climb this month – she is also raising funds for Post-Traumatic Stress Injury (PTSI), depression and suicide by collecting car batteries and selling stubby holders.
The virtual event kicked off on 10 September and will run through to World Mental Health Day on 10 October.
This year, the Stair Climb has an overall fundraising goal of $500,000 and money from this year's challenge will go towards Lifeline, Fortem Australia and 000 Foundation.
After a broken ankle prevented Rochelle from participating in the Stair Climb at Crown Metropol alongside her sister in 2018, she has committed to the cause ever since, having raised more than $4000 individually.
"In a world where we share our wonderful food pictures to Instagram and post fun photos for our loved ones' birthdays, we still have such an issue with mental health," she said.
"My hope for doing this climb every year is to not only help raise money, but also acknowledge that it is okay to talk about mental health and it doesn't make you any less of a person."
Rochelle will be stepping out her goal of 3000 steps at a local set of steps every weekend for three weeks, meeting the total target of 9000.
Joined by her CFA colleague and friend, Molly Drane, the pair will be wearing 28kg vests to imitate firefighting gear while climbing up and down the stairs.
"Every year I've also been collecting car batteries around town and donate them to scrap metal businesses which take them for donations to the Firefighter Stair Climb fund," Rochelle said.
"Last year I collected 80 batteries which raised about $800 and I'm looking to beat that this year."
The fundraising initiative doesn't stop there for Rochelle, as she has also organised to sell around 300 'Hillcrest Steps Up' stubby holders.
"My sister and I had a logo printed on them and we sell them off to people for however much they're willing to give to the cause – and we've already sold about half of them," she said.
Those who wish to support the Rochelle, Molly and other members of the brigade in raising funds for PTSI, depression and suicide can donate at www.firefighterclimb.org.au/station/cfa/hillcrest.