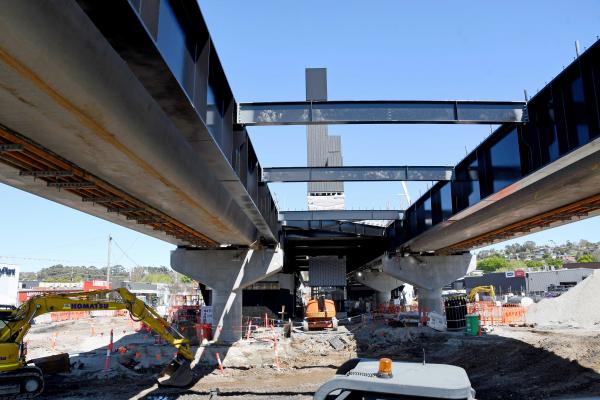 By Mikayla van Loon
After an already disastrous week on the level crossing removal sites in Lilydale and Mooroolbark, the State government projects have also fallen in line with the construction industry shutdowns.
The two week lockdown of construction sites which came into effect on Tuesday 21 September will mean prolonged delays on the level crossing removal projects, pushing completion dates further back.
Level Crossing Removal Project (LXRP) CEO Kevin Devlin said works on all level crossing projects had stopped temporarily under the mandated shutdown but works to make the sites safe would take a few days.
"Our crews are on the ground today (21 September) ensuring our sites are safe while works are paused for two weeks," he said.
"Projects underway where we've shut major rail lines will take longer to make safe for nearby residents and commuters and crews will complete this over the coming days."
The shutdown comes after the Lilydale worksite had to close when a positive Covid-19 case was identified on Wednesday 15 September and the Mooroolbark worksite closed after a crane incident on Friday 17 September.
Covid-19 Commander Jeroen Weimar announced on Monday 20 September that a further four cases had been linked to the Lilydale level crossing outbreak.
The four people infected were primary close contacts of the Lilydale worker, who was from Ballarat and worked across two different construction sites.
This was not the only instance of multiple workers working across different sites, linking a number of Covid-19 cases in regional Victoria to metropolitan Melbourne and vice versa.
"From the pattern of cases we've seen over the last week or two and the exposure to Ballarat, to Geelong, to Mitchell Shire, we need to absolutely minimise movement across the construction industry between metro and regional areas," Mr Weimar said.
Over 400 positive Covid-19 cases were linked to construction sites last week which was only exacerbated by violent protests, bringing on this sudden lockdown of the industry.
With the Mooroolbark and Lilydale level crossings half way through a 45 day construction blitz, train lines and roads cannot reopen, as tracks have not been laid and roads have not been built.
This means disruptive detours will remain in place at Lilydale and Mooroolbark and could see major roads like Maroondah Highway closed for a longer period of time.
"We appreciate everyone's patience while we work to reschedule our planned works. More information will be shared with local communities once new disruption dates are confirmed," Mr Devlin said.
"Buses will continue to replace trains on the Frankston, Lilydale and Williamstown lines, while local roads that are currently shut will remain so, with traffic control in place."
LXRP expect there will be some changes to the construction timelines but the new completion dates of level crossing removals and station openings will be communicated to the community as soon as details are confirmed.
Level Crossing Removal Project sites are expected to reopen on Tuesday 5 October with greater Covid-19 safety measures in place.
This includes implementing strict measures to minimise workforce close contacts, such as staggered shifts and industry consultation to implement COVIDSafe meal and rest break arrangements for the LXRP workforce.
LXRP are urging the construction workforce to use this time to get vaccinated against Covid-19 to allow them to get back to work.