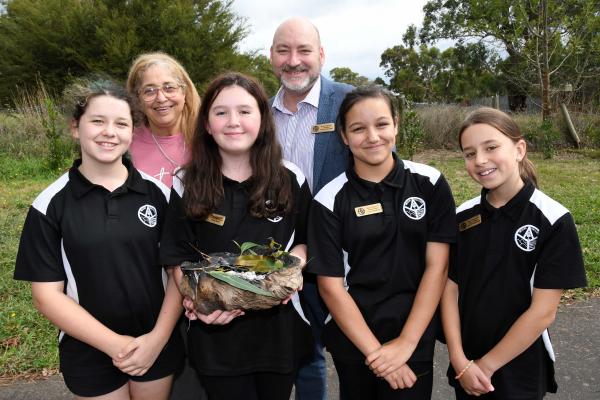 Wurundjeri Elder Aunty Joy Murphy Wandin visited Woori Yallock Primary School to perform a smoking ceremony for the school's students.
Aunty Joy conducted an Acknowledgement of Country to a 48,000 strong MCG crowd for the Richmond vs Carlton AFL season opener on 17 March. The following Thursday, she did the same for about 100 students in attendance at Woori Yallock.
Aunty Joy was emotional upon asking a Woori Yallock student to help her perform the Acknowledgement to Country when the young boy did so with great respect. She explained what that moment meant to her.
"Oh my god, it took my breath away. For a child of his age, it just goes to show what is being taught in this school and obviously what he has learnt at home," she said.
"For him, very proudly coming up and acknowledging my people and all First Nations people, that's huge. I hope we have many more kids like him coming through.
"He truly understands what he was saying, there was no hesitation. I loved the little glimpses he gave me every now and again when he was saying it."
The students watched on as Aunty Joy performed the smoking ceremony, then took part in asking her questions. Later, Aunty Joy shared some difficult stories from her upbringing during the Stolen Generations to senior students.
"People have to hear these hard stories because it's the only way we're going to learn but hopefully it will allow them to better understand who we are and where we come from."
She said she hoped the recently announced Yoo-rrook Justice Commission, the nation's first truth-telling process, would provide an understanding of the injustices experienced by Aboriginal people.
"I hope they take away all of it. I think there's a big message for little children to take away. I tried to keep it simple so they would understand it and learn about respect.
"It's about a bringing together. It's an action that makes you feel extremely proud to be here. It doesn't matter if they still don't get it, but these kids do, they were amazing. But for me it's about having the opportunity and them having the opportunity."