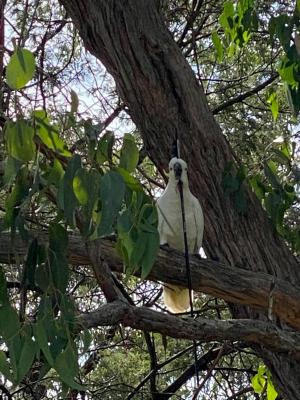 A Sulphur-crested cockatoo has been found in Wandin with an arrow protruding through its head.
Police and government authorities are on the hunt for the person responsible and are appealing for any information regarding the incident after the bird was sighted on Albert Street on Monday 15 February.
The bird is alive and mobile, meaning it was unable to be captured. The extent of its injuries are unknown.
Many locals were angered at the sight of the bird, while Animal Justice Party MP Andy Meddick labelled it a "disturbing act of cruelty".
"This is exactly why we need much stronger laws to protect wildlife, and to penalise cruelty," Mr Meddick said.
"It's also why we need a total ban on bow hunting. I'll be taking this up with the Minister for Environment with urgency."
Penalties, including fines and imprisonment, apply for hunting, taking or destroying wildlife in Victoria.
If you know something about this incident, or other wildlife crime, contact Crime Stoppers Victoria on 1800 333 000 or crimestoppersvic.com.au
If you see the cockatoo, contact DELWP on 136 186 to find your nearest wildlife rescue group.
More to come.