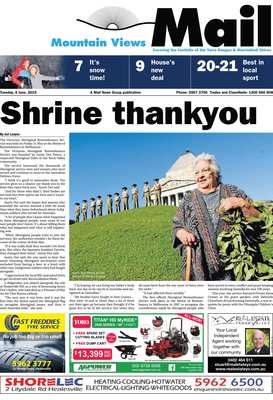 It is only fitting that Indigenous Elder Dorothy Betsy 'Dot' Peters AM be named as Mail News Group's Person of the Year, having graced the front page on four occasions throughout 2019.
The last of those was when the Yarra Valley legend passed at Healesville Hospital on 19 September, aged 89.
The Mail highlighted Aunty Dot's great achievement of the Victorian Aboriginal Remembrance Service which was held in May at the Shrine of Remembrance. Thanks to the tireless efforts of Aunty Dot, Indigenous soldiers now receive the recognition they deserve for their sacrifice in Australia's major conflicts, including Dot's father, who died as a prisoner of war on the Thai-Burma Railway in World War II.
Another front page story featuring Aunty Dot celebrated her recognition as a Member of the Order of Australia (AM) for her significant service to the Indigenous community of Victoria as part of the 2019 Queen's Birthday honours.
Dot's son, Andrew Peters, told the Mail: "It's as much a gratification that the powers that be see this issue as being really important, that's the recognition of Aboriginal service in the war effort."
"For mum personally, it was a justification of what her father sacrificed for the family and for his country. And then what her mother had sacrificed as well by not stirring the pot. As Aboriginal people, they received a tiny fraction of the compensation of what white soldiers received.
"From a personal point of view she did it for her dad and mum, but it was a national issue that she created. It was really satisfying for her and I just can't describe the pride you feel … It's a bit surreal for me because she's just my mum."
While Aunty Dot is no longer with us, she leaves a lasting legacy in Healesville and across the Yarra Valley.
From 1980 to 1991 Aunty Dot worked as an Aboriginal Educator at Healesville Primary School, teaching children about Indigenous culture and passing on her knowledge in basket coiling.
Following her Queen's Birthday honours in June, Aunty Dot told the Mail: "It was good to talk to the children, but even now I still have some of them talking to me in the streets as young men. I taught them about Aboriginal issues and they had remembered what I said to them, so I think that's terrific".
Aunty Dot was a champion for reconciliation and thanks to her efforts we are all one step closer to living harmoniously.
"She would always do a Welcome to Country and she was very proud and strong in how she did them. But she was also very adamant that she recognise non-Indigenous people in her welcomes as well," Mr Peters said.
"Her whole life was around that, making everyone feel like an important part of the community. Everything she did was because of the person she was."
"I hope people remember what a special lady she was," Healesville Indigenous Community Services Association (HICSA) CEO Anne Jenkins said. "She was very caring, very forgiving. She had such a kind and gentle nature about her."
The organisation (now operating as Oonah Health and Community Services Aboriginal Corporation) prides itself on following Aunty Dot's way of life.
"Aunty Dot's words, 'respect, caring and sharing' is what we've borrowed from her. Those are three of the things she always used to say," Ms Jenkins said.
Mr Peters described the response following his mother's passing as 'phenomenal' as hundreds of community members gathered to pay their respects at her funeral in September.
"The support was overwhelming. It reminds me of why Healesville will always be home for me. Mum was always such an important part of the town and it's really nice to know that she was appreciated in that way," he said.
"On behalf of my family and from the bottom of my heart, I'd really like to thank the Healesville community for the way that we were able to send her off … She would have loved it."