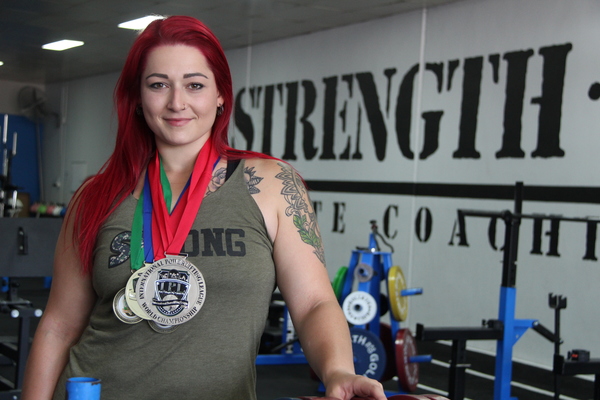 A Woori Yallock powerlifter is setting records in the sport she took up only a year ago.
Deyana Stuebner, a hairdresser at Lefty's Barbershop in Lilydale, started her journey to the World Powerlifting Championships in Las Vegas eight years ago.
"It stems from a weight loss journey that I did by myself," she said.
"I was 120 kilograms and I got sick of looking at myself crying in the mirror.
"After wasting three years paying for gym memberships and waiting for people to come with me, I started going by myself.
"I just got sick and tired of being sick and tired. It clicked."
The mother of one said seeing results helped.
"That keeps you driven to keep going to see the next result," she said.
Stuebner set small goals that led her towards larger ones.
The 28-year-old dropped 40kg and found a love for weights.
"I realised I was a little bit strong," she said.
"I heard people talking about powerlifting.
"I started training myself in dead lifts and that similar sort of style."
Stuebner started training at Strength HQ in Lilydale in 2017 and by February last year competed in her first Australian Powerlifting League competition, on the Gold Coast.
"It was a complete flunk. I didn't do really well at all," she said.
"They still gave me an encouragement award and invited me to New Zealand in April."
She returned from that contest with silver and gold medals.
"Since then I've been getting better and better," she said.
"After New Zealand I did Gold Coast nationals in August.
"That was a qualifying meet to get an invitation for the Las Vegas championship in November."
Stuebner was hoping to come home with an encouragement award.
Instead she picked up a silver medal in her division, and made a world record-equalling 180kg deadlift.
"I left here thinking would only try 175kg," she said.
She's set her sights on breaking the record in the Australia versus New Zealand contest on the Gold Coast in August.
Stuebner also wants to go for an international gold at the next world championships in Ireland in November.
She's broken 14 national records in her weight category, and last year received the APL honour for best female lifter and her gym's best lifter award.
"What I've achieved in one year most people achieve in four to five years," she said.
The powerlifting competitions involve deadlifts, bench presses and squats.
Competitors are awarded points based on their body weight and the weight they're lifting.
"Any time I've stepped on a platform I've never compared what anyone else around me is lifting," Stuebner said.
"I'm very self-motivated and self-driven.
"It's probably more mental than physical.
"If your mind's not in it and you're not sure you can do it, you're probably never going to do it."
She does train four days a week for roughly two hours a day.
"Getting into the strength side of it, it's so empowering to see how much I can push my limits to and see how much I can lift," she said.