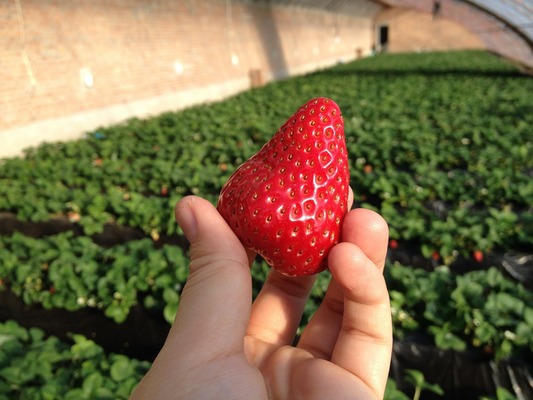 Strawberries are in the news for all the wrong reasons at the moment but there is a simple message from two of the Yarra Valley's most experienced growers.
"Buy them, wash them, cut them and eat them," said John Calle, Victorian Strawberry Growers Association president.
"You should always wash strawberries before eating anyway so just cut them up and all is good."
On 13 September, authorities revealed that consumers had found sewing needles inside strawberries from Queensland stocked in supermarkets across the country.
Mr Calle, from Wandin North, has been involved in Yarra Valley berries for more than 35 years.
He said one of the problems was finding out where the contamination was happening in the supply chain.
"We don't know where it has happened so it's not just about the growers putting metal detectors in to fix it," he said.
"I don't know what is going to happen with all this needle stuff and don't want to give the publicity to the copy-cats out there.
"We don't want to add to the hysteria going around."
With the local berry season about to start, he is dealing with the pressing issue of frost impacting his crop but said "the strawberries will be here early in October and they will be beautiful".
Another Yarra Valley stalwart is Colstream's Sam Violi, who has been growing strawberries for almost four decades.
"We are four to five weeks away from our season, so right now we are hoping the culprits are caught and dealt with before then," he said.
"It is worrying for the growers, particularly as many are small family concerns, who will have crops ready for picking soon but have this stuff hanging over their heads."
As the past-president of the growers association, Mr Violi said he had received a lot of inquiries from local growers worried about the contamination issue, even from as far away as New Zealand.
"There is a lot of talk about bio-security and putting metal detectors in, but maybe that's an issue at the store level, not the growers," he said.
"The product goes through a lot of places after it leaves the farm."
Mr Violi also raised the issue of frost and northerly winds impacting his crop, and said there was a lot of fruit already going to waste, mainly because of the fixation on only buying "perfect fruit".
"However they look, we will have sweet, delicious strawberries in a few weeks," he said.
With the combined value of the berry industry about $850 million, it is now one of the largest individual areas in the horticulture sector and one in need of help right now.