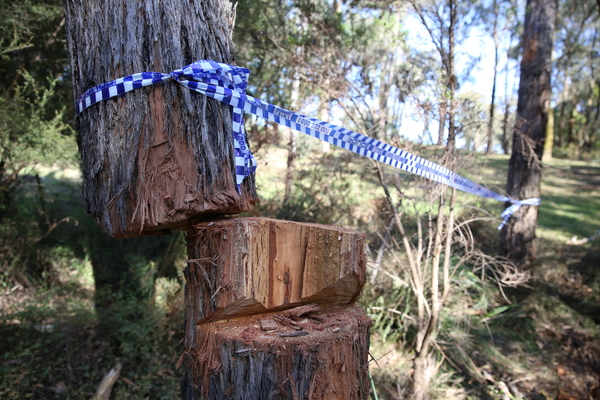 Yarra Junction Police are seeking information about a number of trees that have been dangerously cut down along Eacotts road, Hoddles Creek.
Warburton Sergeant Tom Wilkinson said a number of trees had been felled over the past three weeks and that most recently, on Monday 17 September, a tree was left balancing on the precipice of a stump next to the road.
He described the action as ridiculous and said it posed a significant risk to all road users.
"Someone is getting out here and cutting some firewood, either for themselves or to sell," he said
"Those trees have been dropped across the road and that poses significant danger.
"The scar on the tree shows it has been cut the wrong way and that shows they don't know what they're doing.
"If we don't address it now there's every prospect that someone might get hurt or worse."
A resident who lives along Eacotts Road and did not want to be named spoke to the Mail and said she was sickened by the act.
"Leaving it hanging it like that…I just can't fathom the attitude of these people," she said.
"On the back of the tragic incident on Warburton Highway not long ago, I can't even get my head around how they could leave that tree hanging right next to the road."
Sgt Wilkinson said he believed the individuals were cutting the trees overnight and dropping them onto the road, where they would cut them up.
He said the consequences for such acts were serious and individuals caught doing so could face jail time.
"It's subject to a charge of reckless conduct likely to cause serious injury or death," he said.
"It's far more serious than just cutting down a tree."
Anyone with information should call Yarra Junction police on 5967 1104 or make a confidential crime report to Crime Stoppers on 1800 333 000 or at www.crimestoppersvic.com.au.