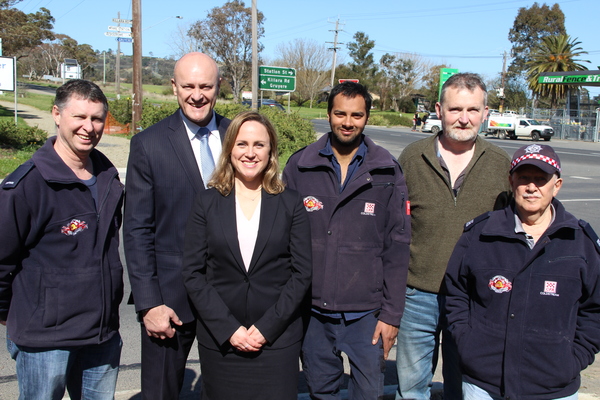 Coldstream's Killara Road-Maroondah Highway intersection will get traffic lights if a Liberal Nationals Government is elected in November.
Roads and Infrastructure Minister David Hodgett and Liberal Evelyn candidate Bridget Vallence met locals at the site on Friday 14 September to announce the $4.4 million plan.
They'd met at the same spot back in April to discuss community concerns about the junction.
Since then, Coldstream Voice's Kevin Ryan collected more than 1000 signatures on a petition calling for traffic lights.
He's lived in the town for nine years, and said there was a fatality at the intersection just last year.
"The traffic out here is increasing exponentially," he said.
"The worst time is of a weekend."
Mr Ryan said locals events and long weekends exacerbated the situation further.
"You can't get out of Killara Road," he said.
"The amount of near-misses that happen…"
Mr Ryan said a new housing estate about to spring up in the town centre would increase traffic even further still.
He said many drivers waiting to turn right from Killara onto Maroondah Highway resorted to instead turning left and performing a U-turn at Station Street.
The Coldstream Fire Station has been on Killara Road since 1962.
"This is the perfect spot for them," Mr Ryan said.
Coldstream CFA captain Sean Bethell said it was impossible for his crew to get onto Maroondah Highway during peak times "even with lights and sirens going."
The brigade has been advocating for lights for 10 years.
"This road network has got busier and busier," he said.
Mr Hodgett said he tabled the Coldstream Voice petition in Parliament last week.
Ms Vallence said the lights would improve safety, ease congestion, and provide CFA volunteers the ability to quickly and safely travel through the intersection in times of emergency.
"If I am elected to represent Evelyn, I will continue to work closely with the local community and VicRoads to ensure we get the best outcome for motorists and residents," she said.