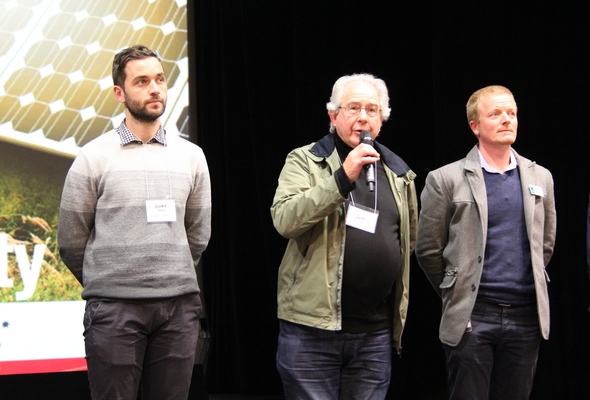 By Kath Gannaway
Healesville Community Renewable Energy (CoRE)'s first birthday was a mix of celebration and inspiration.
More than 200 people gathered at The Memo in Healesville for the 'Our Solar Town – From Dreams to Reality' catch up one year on.
Cr Fiona McAllister opened the event recognising that the project that started with a small steering committee, exploded with a public meeting of almost 300 people had powered ahead.
"What has happened in that year is incredible for just 12 months," she said.
"Jeff (Barlow) and Julian Guess (Yarra Ranges Council) held together a very small team that pulled together Healesville CoRE in this very room," she said.
"I'm very proud that Council has been able to support CoRe in many ways."
She said renewable energy groups and projects were now operating successfully in Yarra Glen, Warburton, and Healesville.
"I would like to think when we stand here in another year's time that there are another five towns doing this sort of thing," she said.
CoRe founder and president, Jeff Barlow, paid tribute to the committed volunteers who have worked solidly to progress the solar vision to transform Healesville into a Net Zero town, using only renewable energy.
"There is a huge amount of love coming from these people for each other and for the community," he said.
He thanked CoRe's supporters and sponsors, Yarra Ranges Council, Healesville Community Bendigo Bank, Healesville RSL and Healesville Living & Learning Centre.
"Healesville CoRe can't do on our own," he said.
"We are an enabler and we need the community to communicate what they want," he said.
Dr Yasmina Dkhissi and Luke Barry of Monsh University's Net Zero Project who along with Nick Seymour ran the Healesille CoRe Options Study.
The study looked at three homes in Healesville looking at ways of reducing energy use in the different demographics and home types.
In one house, three upgrades – underfloor insulation, installation of a heat pump and an energy efficient clothes dryer resulted in a reduction in energy use of 47 per cent.
Matthew Charles-Jones from Mondo Power spoke of micro and mini grids and of the Totally Renewable Yakendandah Experience which has delivered incredible community, business and resident savings in that town.
The most revealing, and locally inspiring, presentation came from Simon Woodland, Executive Officer Environmental Stewardship, with Yarra Ranges Council.
He said the Carbon management Program was established to support the Council's commitment to achieving a 30 per cent reduction in greenhouse gas emissions by 2020.
He said more than 2000 solar panels had been installed on 25 council buildings including The Memo and spoke of their involvement alongside other municipalities in the Solar Savers program which facilitates solar energy for pensioners and their partnerships which will enable businesses to take up solar.
Disused tip sites could be utililised as solar farms in the future.
Mr Barlow recapped a number of CoRe achievements including putting in place the structures needed to ensure the organisation could progress with a clear direction for the future.
"Working with council to get the bulk buy up and running and running a series of community events on solar electricity, batteries and hot water and on solar for landlords and tenants, as well as running some training days for our volunteers so they can be skilled with the information and knowledge they need for the work they are doing, are also among our first year's achievements," he said.
For more information on CoRE visit healesvillecore.org.au .