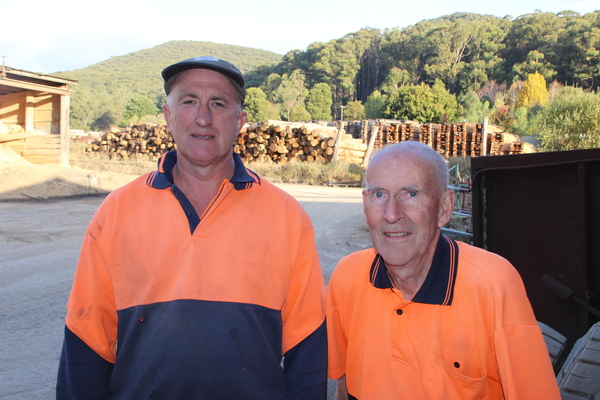 By Kath Gannaway
A group of six sawmill operators, including three in Central Highlands, has accused the State Government of creating uncertainty and confusion in the industry through what they say is a major conflict of interest over the government's purchase of the Heyfield (Gippsland) sawmill.
In an open letter to the Premier, the Group of Six (G6) – Fenning Timbers – Bairnsdale, Ryan & McNulty – Benalla, Dindi Sawmill – Murrindindi, A G Brown – Noojee; Kelly's Timber – Wesburn and Powelltown Sawmills – Powelltown, get straight to the point.
"We just want to know about the future of jobs, communities and the timber industry in regional Victoria" the letter (see page 6) starts.
They accuse the government of shutting down extensions to existing timber supply agreements, ceasing tendering contracts for wood supply beyond 2021 and placing a halt on renewing some harvest and haulage contracts while "brazenly" providing Heyfield with extra timber at their expense.
With the sole timber supplier, VicForests, also a State Government-owned company, in charge of the agreements, the G6 is drawing a fox in the hen-house analogy, saying they are being left to "stop the carnage".
The Mail was redirected from the Premier's department to the Minister for Agriculture & Regional Development for a response to the Open Letter.
The Agriculture Ministry emphasised that no contracts were 'torn up' but said optional extensions weren't extended due to impacts on supply due to fire and protected species.
Dindi Sawmill owner Sue McKinnell from Healesville said however the impact on the smaller sawmills was a direct consequence of the Heyfield situation.
"The government bought the sawmill to save community jobs and the timber industry and in doing so has hung out six others," she said.
"Dindi had a licence to 2026 and in September last year VicForests came to us and to five other mills and said they were not going to honour the extensions."
"Ours was cut back to 2020, some others have until 2021."
Ms McKinnell said Dindi Mill employs 17 people whose families depend on them and who want certainty.
"After June 2020 we will have to close the doors and walk away; after $20million investment over the past nine years, we are just going to have to walk away."
Harold Fox, owner of Powelltown Sawmill, said timber communities and workers need security.
"We want to know we still have a future. Workers need to have that bit of security that you have with the long-term licencing.
"That's all we're asking the government for," he said.
Powelltown employs 35 people, and as with Dindi, many of them are second and third generation workers in the industry.
"You have people in the mills and working in the bush who have bought equipment and you need to plan for the future, whether that's a declining future, you just need to be able to plan for the potential future."
He said the industry had been ramping down from about 180 sawmills to around a dozen small sawmills as the government has bought mills out over the years.
"We're in a position now to keep us all sustainable and keep the town viable," he said.
"We're sawmillers and we just want to know there's a bit of a future for us, and for our customers."
While both Ms McKinnell and Mr Fox say they are happy for Heyfield, they are equally adamant that it can't be at the expense of other mills.
"They were advised not to do it (buy Heyfield), to let them stand on their own two feet and instead they have hung out six mills to save one," Ms McKinnell said.
In response to the 'Open Letter' a government spokesperson said the government supports a strong and viable forest and forest products industry and is committed to creating jobs and promoting investment.
"We're investing in the long term future of Victoria's forest industry by diversifying and complementing the supply from native forestry," he said, adding that they are continuing to work with the industry and other stakeholders to a plan for increased plantation supply.
On the accusation by the G6 of a conflict of interest, there was no response.