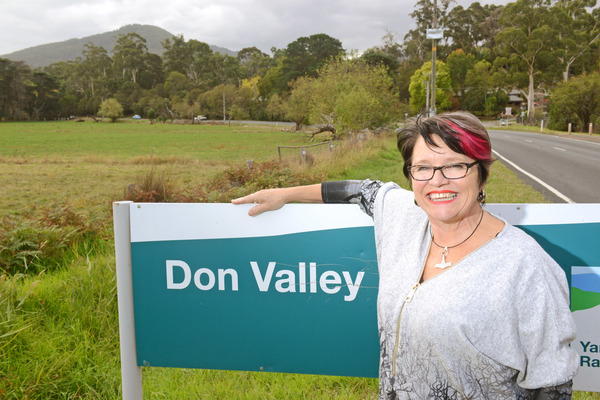 By Kath Gannaway
A new $6.5million leadership school at Don Valley is part of a $7, 260,000 investment in Upper Yarra schools to be announced in the Victorian State Budget on Tuesday, 1 May.
The Alpine School campus will be built on land currently owned by Parks Victoria as part of Haining Farm.
Launching Primary School will receive $500,000 to upgrade and modernise their school while Don Valley will get $170,000 and Hoddles Creek $90,000.
Labour candidate for Eildon, Sally Brennan, welcomed the investment in local schools saying it was good news for the area's small schools and that the selection of Don Valley for the Alpine School taps into the exceptional natural resources that are part of the region.
The Mail understands that the parcel of land situated to the east of the main Haining Farm property, between Don Road and Old Don Road, will be transferred to the Victorian Department of Education and Training as part of the arrangement.
The School for Student Leadership is a Victorian Department of Education and Training (DET) initiative operating three campuses in the Victorian Alps, East Gippsland and the Western District for Year 9 students.
Principal Mark Reeves told the Mail it was an exciting opportunity that had been part of a long-time vision for the school.
"We have kept warm this terrific opportunity provided to us by Parks Victoria about 10 years ago," he said.
"When they were looking at their strategic use of Haining Farm they approached us to look at the site and it really is a great location. I love that it is next to Don Valley Primary School and all the other opportunities that it offers."
Students come from Victorian Government schools all around Victoria and there is an international program as well for the operation which typically has up to 20 teaching and non-teaching staff and a recurrent budget of about $2 million dollars a year.
Mr Reeves welcomed the $6.5million as a significant start to developing a fourth campus and said while they will need to "look at some creative ways of staging the construction" they are committed to starting the process.
He anticipated they will go to tender in June and were hoping to start to the 10 to 12 month building process in February.
Ms Brennan said the announcement followed planning funding in last year's budget that would now see construction of the new campus.
She said while there would be minimum impact on the community, the investment recognises that the residential leadership program and alternative activities for Year 9 students are very important.
"It's booked out and there is a waiting list across the state for this program and this is the Andrews Government responding to that need," she said.
"I know from my own experience in education that Year 9 is a critical time for students – making decisions often on what they want to do and who they are.
"It's wonderful to have a place away from school that's about self-determination and who am I, as well as lots of activities outdoors."
Ms Brennan said Don Valley was a smart choice with the whole of the Yarra Ranges National Park on their doorstep and its proximity to Melbourne.
In an election year, Ms Brennan said it was worth noting that the funds announced in the budget were locked in.
"These are not election promises, they are budgeted expenditure items that will happen," she said.