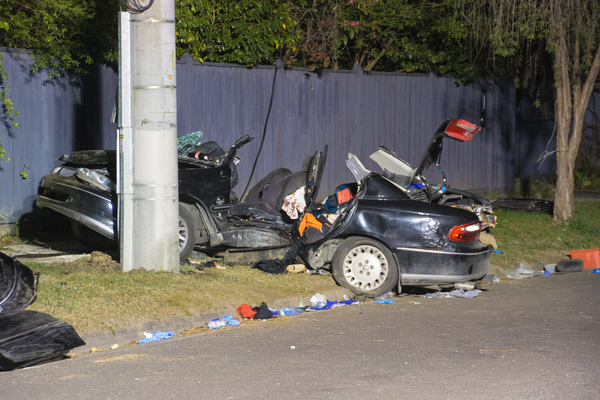 Emily Toulson, 24, of Healesville, has been sentenced to at least five years in prison over the death of 16-year-old Amber Beard in Mt Evelyn on 6 October, 2015.
Toulson pleaded guilty to culpable driving causing death and five counts of negligently causing serious injury.
She was sentenced to eight years and eight months in prison, but will be eligible for parole in five years.
The court heard that Toulson was more than twice the blood-alcohol limit when she took a bend at high speed on Hereford Road, Mount Evelyn before sideswiping two cars coming in the opposite direction and slamming into a pole, passenger side first, around 6.15pm.
Amber Beard was just one of eight passengers in the Holden Commodore sedan at the time of the incident and was sitting on her brother's lap in the front passenger seat.
She was killed and five other passengers were seriously injured – Toulson also suffered serious injuries, including a traumatic brain injury.
The court heard that prior to the incident Toulson had been drinking with friends at Lilydale Lake. Friends later said to police that Toulson was "half-cut" and "pretty pissed".
Hey boyfriend at the time had taken the keys off her, though a friend relinquished them when she had demanded them back as she wanted to leave.
In the minutes leading up to the crash, the court heard that two of Toulson's passengers had asked her to slow down and were concerned that she was tailgating other cars, speeding and overtaking when it was unsafe to do so.
In an impact statement Amber's mother, Lisa Beard, described her daughter as having a "passion for life."
"We didn't have much but we had each other, we were happy … all that changed on 6 October 2015, when my baby didn't come home," she said.
In sentencing, County Court Judge Michael O'Connell said it was difficult to overstate the seriousness of Toulson's offending.
He said he had also taken into consideration her early guilty plea, the fact she had no prior offending, was remorseful and had sustained a brain injury in the crash.
"You were grossly affected by alcohol, you'd been told not to drive, your car keys had been taken from you but you demanded and obtained them back.
"You then drove dangerously and at excessive speed, you did so with a large number of people in the car, many of whom were unrestrained you ignored requests to slow down," he said.