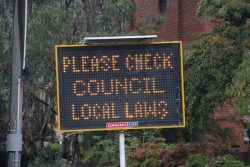 By Kath Gannaway
It's one of the ironies of a local law that, generally, it doesn't affect someone, until it affects them.
As Yarra Ranges Council calls for feedback on a review of the Open Air Burning Law there is also the opportunity for residents to have a say on existing local laws covering what residents, and visitors, can, can't and shouldn't do.
The council's health and local laws executive officer Peter Wright said the review was triggered by the looming expiry of the Open Air Burning Law (2008).
It's the last law to be reviewed as part of the council's overall review of local laws that cover topics as diverse as a crowing roosters and roadside trading to nature strips, scare guns, caravans, abandoned vehicles, and more.
The council has compiled a top 10 list of complaints and open air burning is the burning issue with 1609 'customer requests' around smoke nuisance, fire risk and potential breaches of the existing law between 2013 and 2017.
In the same period, 1496 requests were made regarding unregistered vehicles, caravans or trailers on roadsides and nature strips.
Animal-related requests came in at 965.
"The feedback is the first phase of the process and we're asking people what they think about current local laws, trying to find out what works for them, what's their experience and to see if there are any parts that they would change, or that would help resolve issues more effectively," Mr Wright said.
He added that a big part of managing local laws was around resolving issues.
The council made it very clear back in 2012 when the General Provisions Local Law was on the table that the council took a reactionary approach to many, if not most, of the laws.
Mr Wright touched on that approach saying the question needed to be asked "if we can't enforce things, do we need a law?"
"We don't want to unnecessarily interfere with people's lives, the laws should be there to deal with things people have a concern about.
"We find a lot of things we that we come across could be dealt with by the people who live in close proximity," he said diplomatically.
"Our response is moving towards helping people resolve the problems they have."
The council is encouraging residents to use the opportunity to have a say, saying the community consultation would help provide the council with an indication of what is working well with the current local laws, and what is not.
With the review of the Open Air Burning Law, the council will consolidate its local laws into one volume so in the future they can all be reviewed at the one time.
The laws will not be required to reviewed again until 2028.
To have your say, and view the current local laws document go to https://www.yarraranges.vic.gov.au/Lists/Current-consultation/Local-Laws-Review
A hard copy of the local laws document, and the opportunity to make a written submission will also be available at the Yarra Ranges Community Links throughout the shire.
Submissions close 31 October.
The council's top 10:
* Burning off.
* Animals.
* Abandoned vehicles.
* Business and permits.
* Unsightly property.
* Nature strip landscaping.
* Vegetation and overhanging trees.
* Native vegetation on council land.
* Camping.
* Obstructions on council land.