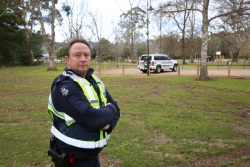 By Derek Schlennstedt and Kath Gannaway
Four-wheel-drive vandals have churned up Queens Park and left ratepayers having to pay $1500 to replace damaged fences and grass.
Yarra Ranges Council's Environment and Engineering Director Mark Varmalis said the damage to the family park was disappointing and was an inconvenience to families who regularly use the location.
"The cost will be about $1500, including time for the Bobcat and excavator, top soil and grass seed," he said.
"This vandalism has been a real inconvenience to park users and has interrupted council's regular works by having to manage works to re-instate the grass," Mr Varmalis said.
Mr Varmalis said that the Parks and Bushlands team would begin the reseeding in the next eight to 10 weeks to return the site to its former state.
The damage was a result of a car, believed to be a 4WD, driving onto the grass and doing a burnout which resulted a large portion of the Queens Park area being torn up.
The same people are believed to have cut chains that were put up to stop intruders from driving onto the grass.
Yarra Ranges Council has replaced the chain fencing with wooden bollards and metal piping to avoid a reoccurrence.
"We are carrying out additional fencing works at the front to mitigate further vandalism.
"Last week we installed bollards across the verge to prevent unauthorised access in the future," Mr Varmalis said.
"Council is also replacing the old chain fencing with a new pipe rail that is more secure through the Asset Management Plan process, to be completed in a few weeks," he said.
Unfortunately, the Queens Park burnouts aren't the only act of vandalism in Healesville.
Only a few days later, on 14 July, Sergeant Stewart Thompson from Healesville police, and Highway Patrol officers spoke to a driver and passenger of a grey car that was bogged just off the roadway and adjacent to the helicopter landing pad at the Don Road Sporting Complex.
The ground surrounding the helipad was torn up considerably but Sgt Thompson said the burn-outs were a couple of days old and that they were unrelated to the bogged driver.
However, Sgt Thompson said that the driver, a 26-year-old Healesville man, had admitted going to the complex about 2am on Friday morning, 14 July, with the intention of doing something stupid and would face charges.
Sgt Thompson said it was important that drivers understood that the improper use of a vehicle could result in the vehicle being impounded, even if it was on private property.
"Vehicles can be impounded anywhere, including on private property – for offences in road safety, driving in dangerous manner and improper use of vehicle.
"They seem to think they can muck around in a paddock or on private land and that could not be further from the truth," he said.
It is believed that Healesville police have identified a suspect in relation to the Queens Park damage.