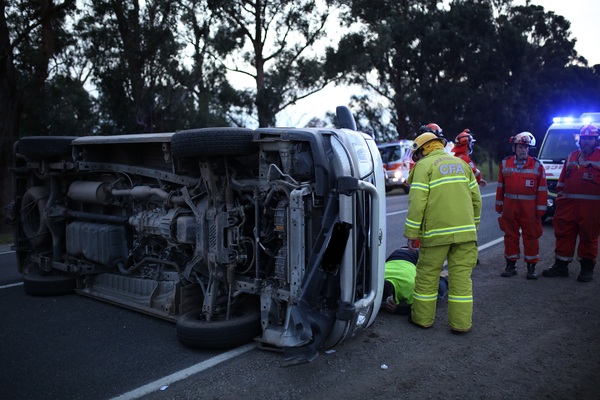 By Derek Schlennstedt
A male driver was lucky to escape uninjured after his van flipped on the Healesville-Koo Wee Rup Road on Tuesday 16 May.
Just one month after a fatality on that stretch of road, his van veered into oncoming traffic, before clipping an approaching vehicle and rolling.
The crash occurred about 5pm, just before Albert Rd.
The driver, a Healesville resident who lives near the scene of the accident, emerged from the crash shaken.
Healesville Fire Brigade and SES attended the scene, with the road later closed.
Oncoming driver and Dixons Creek resident, Michael Hall, was driving home from work in Yarra Junction and spoke to the Mail about the terrifying moment he saw a van coming towards his Volkswagen Polo.
"I was just following the lady in front of me and looked up and saw a van coming towards me," Mr Hall said.
"I didn't have any time, by the time I realised what had occurred, it had already happened, everything was over.
"There wasn't any time to think about anything.
"It was so quick, just smack and done."
The Toyota van, twice the size of Michaels' Volkswagen, hit the front driver side of the car, impacting against the driver side front and back door.
Mr Hall sustained a cut above his eye from the driver-side window, which had broken.
"It's a very unlikely strip of road for a car to roll; it didn't make any sense to me," Mr Hall said.
Investigation into the incident is ongoing and police are making enquiries.
However, Senior Constable at Mooroolbark Police, Christopher Moloney, said fatigue may have been a factor.
"It's a long straight section of the road, so not an area where you would expect a collision to occur," he said.
"There's also good visibility so it does appear it may be fatigue related."
Sen Constable Moloney said the crash could have been worse.
"It wasn't quite a head-on, but it was only centimetres away," he said.
Sen Constable Moloney reminded drivers, if they're feeling tired, to stop and pull over.