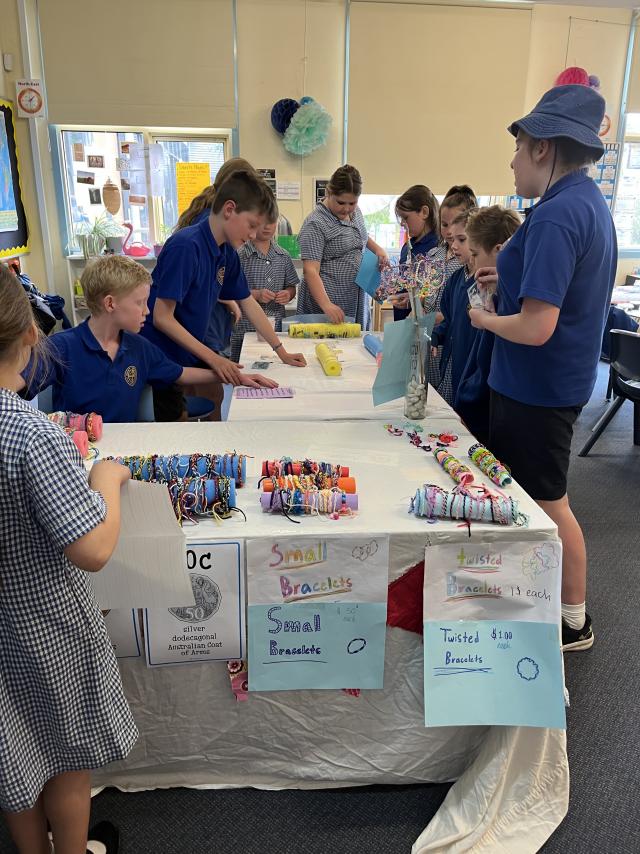 At St Brigid's the student leaders have a key focus on building relationships both within and outside the immediate school community. Last term they took up the invitation to participate in the Vietnam Veterans Celebration and March in Healesville and connected with the local community through visiting local preschools, the local library and supporting the St Brigid's Parish Care Group.
During term four, all of the students across the school raise funds and awareness of the school's important mission to 'Grow in Wisdom and Love' through the organisation of a Mini Fete. The student-led Mini Fete is a wonderful way for all of St Brigid's students to build upon and display their social justice leadership skills. The students are all involved in all aspects of planning and executing their class activity including setting up and running their stalls, wandering around spending their money, cleaning up their areas and counting their profits. All funds raised go towards two very worthwhile projects – the St Brigid's Care Group, and the Brigidine Asylum Seekers Project.
The school also plans to again reinstate its Advent Angels program where students source, pack and distribute Christmas hampers for those in need and prepare food parcels as volunteers for HICCI in Healesville. Please also look out for students performing in the upcoming community Christmas Carols on Saturday 9 December.
Finally, and importantly St Brigid's look forward to welcoming the new Prep students to its transition to school program which is commencing on Wednesday 1 November. The school is also still accepting applications for enrolment so there's still time to submit your application. All families are welcome who are looking for a school that both nurtures and cares for all of its students, provides them with many opportunities to learn in different ways and creates a welcoming environment for all. Please contact the St Brigid's school office for further information on 5962 4200 or via email to office@sbhealesville.catholic.edu.au