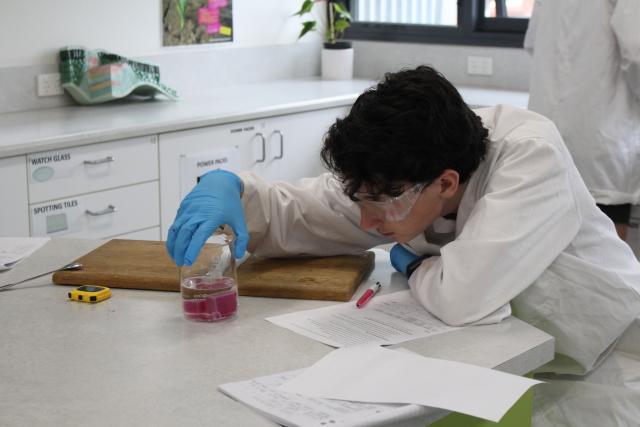 At Mount Lilydale Mercy College we provide our students with a range of educational pathways including VCE, VCAL and VET, with every student having the opportunity to gain the skills needed to do their best and give their best.
We offer 40 VCE Units 3/4 and seven VET subjects, including Agriculture, Building and Construction, Engineering Studies, Hospitality, Music Industry, Screen and Media and Sport and Recreation on site.
We are also part of the Yarra Valley VET Cluster of schools, offering VET programs via other schools in the region.
Intermediate and Senior VCAL students have the opportunity to demonstrate independent learning skills and leadership through a number of integrated activities, projects and learning opportunities that are decided by students with the support of their teacher.
They focus on building their skills in teamwork, planning and organisation, problem solving and communication, as well as their literacy and numeracy skills.
Our online Pathway Portal is designed to give student opportunities to take on greater responsibility in decision-making as they develop an academic pathway that will best cultivate their passion, skills and capabilities. We offer students multiple pathways through learning-experience. With the support of parents, homeroom teachers, Faculty Leaders and the Careers team, students are encouraged to examine their goals and aspirations, their strengths, their passions and the prerequisite requirements for tertiary or vocational courses as they consider which pathway is right for them.
As well as formal learning opportunities, students can participate in a range of co-curricular activities including our Young Farmers Club, debating and chess teams, bands and music ensembles, choirs, the Tournament of Minds, STEM Club and the College Musical, as well as camps and pilgrimages interstate and overseas.
The College also offers:
· Award-winning wine making and agricultural programs
· A Learning Enhancement and Acceleration Program (LEAP)
· Literacy and Numeracy intervention programs in Years 7-10
· A proud history in the Eastern Independent Schools Melbourne (EISM) interschool sports competition.