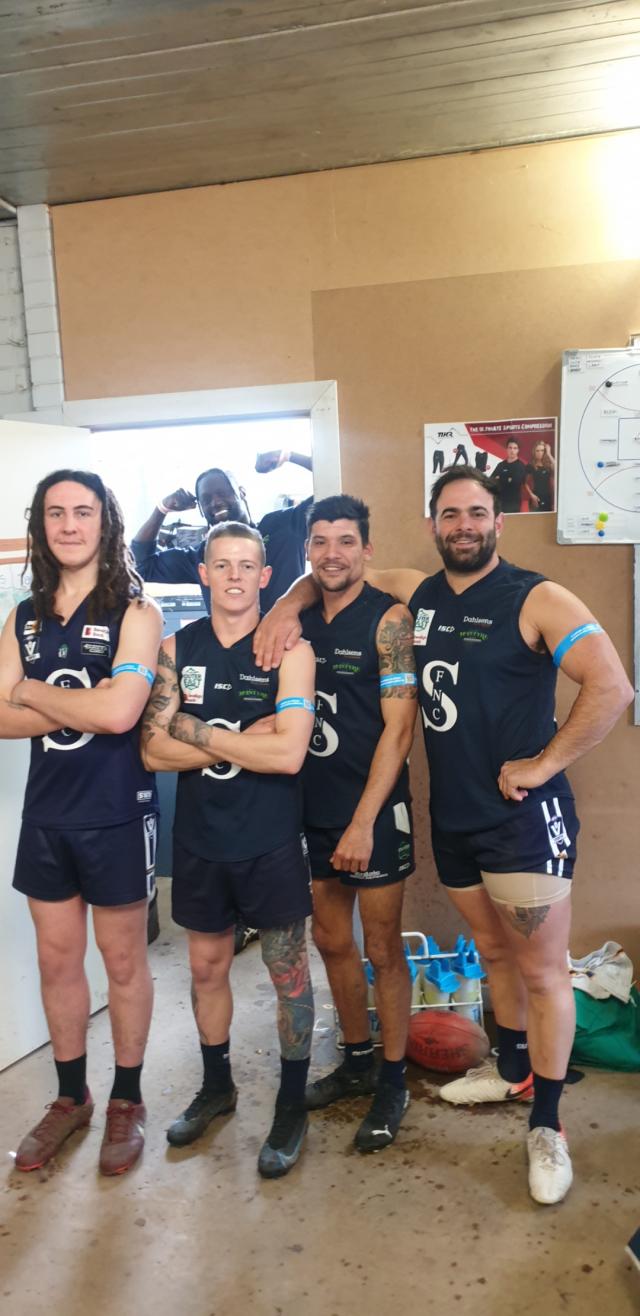 By Mick Morris
Seville found themselves back at home after 6 weeks on the road due to ground maintenance issues.
They took on an improving Belgrave in conditions good for footy.
A few players were back into the team this week including Dan Iacoune returning from illness and Barrie back from Birdsville.
Seville came out firing slamming on 8 goals for the quarter with Domenic 'Sauce Aioli' Aloi and Rob Petracca nailing 2 each.
Seville's forwards were unstoppable in kicking 7 out of the 8 goals for the quarter.
Quarter time saw the Blues up by 49 points.
The second quarter begins with a Belgrave goal in the first minute of the quarter and maybe signs of a mini-revival.
Seville was having none of that.
Seville then clicked into gear and slammed on 5 unanswered goals with 'Aoli' kicking another 2 and Marl 'Libba' Cecere looking dangerous and weaving his way through traffic to put another on the board with his trusty left.
Things could have been worse for Belgrave if the 'Tip Rat' Dylan Broadway hadn't hit the post 3 times in the half.
The Blues had winners all over the ground with Bayley Sciortino, Paul Bailey and Jack Nolan controlling things down back while Jake Strachan and Jack Coshutt were racking up the numbers through the middle.
The forwards seemed to have found their spark again doing the little things that helped those around them. Shepherds, spoils, pressure acts and working for each other were a pleasure to watch.
A 7-goal to 2 second quarter saw the Blues head into the main break 80 points up.
Seville 15-7-97
Belgrave 2-5-17
The third quarter started with a Belgrave goal and it took Seville 15 minutes to register their first
Petracca booted another from outside 50 and a touch of class from U18 player Mitch Medson dishing out a classy handball in heavy traffic to Chris 'Critter' Niclasen who slotted his first.
Seville kicked 4-8 for the quarter while Belgrave slotted 4-1.
The orange break saw the Blues up by 87 points.
Seville 19-15-129
Belgrave 6-6-42.
An 8-goal quarter by the Blues showed they didn't take their foot off the accelerator.
Broadway banged his fifth for the game with a 'Dyl-icious' solo effort in front of his home supporters and he let them know he was up and about. "Get around me" he screamed to his adoring fans and teammates while pumping his fist skyward.
A touch of the fumbles saw Petracca cough up the pill which landed in the arms of big Sauce Aoli who registered his eighth major for the game in a dominant performance.
A good all-around performance from the Blue Boys and a much-improved effort from the previous week.
Seville's best players were Bayley Sciortino, Dylan Broadway, Domenic Aloi, Jack Nolan, Jack Coshutt and Jake Strachan.
The goalkickers for the Blues in the big win were Aloi 8, Broadway 5, Petracca 3, Cecere, Strachan and Brendan Dickinson 2 and Coshutt, Iacuone, Niclasen, Sciortino and Michael Condello 1.
Seville remains on top of the ladder 6 points clear.
The Blues now travel to the Mick Morland Reserve in Clyde North to take on Berwick Springs in the Match of the Day this Saturday.
Other football results:
Seville Reserves defeated Belgrave Reserves 17.17, 119 to 6.5, 41. The best players for Seville were Ryan Farrow, Nik Broadley, Luke O'Keefe, McKenzie Tucker, Ryan Vassallo and Tyler Pereira.
Seville U18s had a week off before their big semi-final clash with Warburton-Millgrove U18s.
Seville Senior Women were defeated by Olinda-Ferny Creek Senior Women 1.0, 6 to 15.18, 108. The best players for Seville were True Robinson, Madi Ward, Alexandra McInnes, Debra Kendall, Jen Vermeulen and Lucie Aperloo.
Netball:
Seville 17Blue drew with Berwick 17Blue 25 all. The best players for Seville were Georgie Brisbane, Genesis Foster-Jonassen and Keeley Thompson.
Seville D Grade defeated Belgrave D Grade 29 to 14. The best players for Seville were Corinne Tesselaar, Tahla Gibbs and Jayde Rait.
Seville C Grade defeated Belgrave C Grade 35 to 23. The best players for Seville were Tarsha Collette, Emily Read and Courtney Canning.
Seville B Grade defeated Belgrave B Grade 64 to 37. The best players for Seville were Gabrielle Duncan, Alexis Tucker and Alanna Lennie.
Seville A Grade defeated Belgrave A Grade 54 to 47. The best players for Seville were Ella Bayliss, Hayley Ray and Emily Wicks.