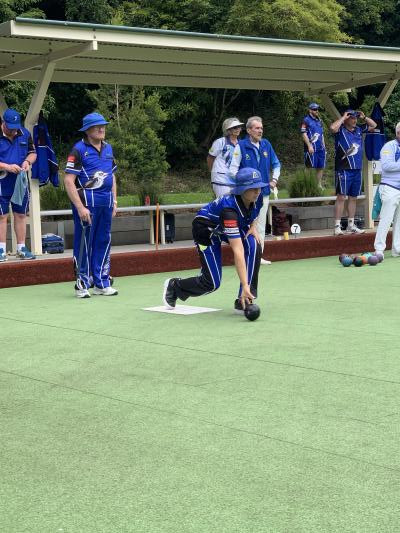 By Garry Lewis
The Warburton Bowls Club had a mixed bag of results after the second round of weekend pennant.
The six-a-side team played a strong Cockatoo side at home in the morning going down valiantly 18 to 26. The first gamers, Cath Seegers and Brett Turner, performed extremely well.
Rink scores were T. Van Der Zweep 14/ 12 and N. Donohue 4/ 14. They next play Burwood Districts away.
Following a high standard and close game at home the Division 1 Warburton 1 side continued to display their never-say-die attitude to come from behind in the last few ends against Fitzroy/ Victoria 1. They recorded a thrilling six shot victory, 81 to 75.
Rink scores were as follows: C. Neale 20/24; A. Donohue 15/ 15; J. Van Der Zweep 24 /16 and P. Caneva 22/ 20. They play Whittlesea 2 away this Saturday.
The Division 4 Warburton 2 team led overall for most of the game before a disappointing finish in the last few ends saw them go down 74 to 77 against Boronia 2.
Rink scores were P. Summers 22/ 11; G. Lewis 21/ 14; S. Darwall 13/ 24 and M. Reynolds 18/ 28. Well done to the first gamers Darren Nisbet and Madisyn Nicolandos for their performances. The team plays Eastwood Golf 1 away this week and hopes to regroup.
The midweek Warburton 1 side played their first round at home against Donvale 2 and won 60 to 49 with all rinks winning.
Rink scores were S. Lord 22/ 15, G. Walsh 20/ 17 and R. McKail 18/ 17. They play Chirnside Park 1 away this week.
Training is on Thursday evenings from 4pm. It has been wonderful to see some new faces at the club recently. New Players, including beginners and those who have played before, are most welcome to come along and join this small but friendly local club.
Social bowls is also available for those who are interested in giving bowls a try. This is held on Mondays from midday at the club.
The Wednesday Night Barefoot Bowls Competition will hopefully commence on 2 February next year, if all goes well.
The Burras also plan to hold the Pink Triples Tournament on Sunday 6 February. The money raised will go towards Breast Cancer Research.
The Club facilities are available for hire for Private Functions.
For further details, please contact the club on 5966 2391 or 0438 184 428.